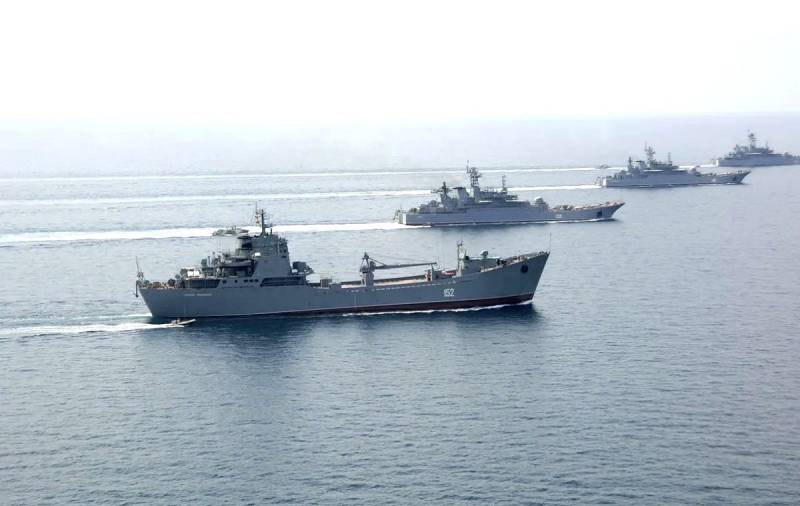 The Turkish authorities received a notification from the Russian side that the Black Sea straits, the Bosporus and the Dardanelles, are going to pass from the Aegean to the Black, the joint squadron of the Russian Navy. The Telegram channel Operative Line informed the public about this, referring to information received from its readers living in Istanbul.
At the same time, the sequence of passage of water arteries was clarified. On February 8, these straits are to be crossed by a detachment of ships of the Baltic Fleet consisting of three large landing ships - Korolev, Minsk and Kaliningrad. On February 9, a detachment of ships of the Northern Fleet will follow, consisting of three BDKs - Pyotr Morgunov, Olenegorsky miner and George the Pobedonosets.
On February 11, the diesel-electric submarine B-237 Rostov-on-Don (project 636.3 Varshavyanka) of the Black Sea Fleet is to return through the straits to the Black Sea. On February 15, the frigates Admiral of the Fleet Kasatonov of the Northern Fleet and Admiral Grigorovich of the Black Sea Fleet and another unnamed diesel-electric submarine, presumably from the Black Sea Fleet, will enter the Black Sea. Moreover, on the same day, the missile cruiser "Moskva" of the Black Sea Fleet will proceed from the Black Sea towards the Mediterranean Sea to obtain operational space. However, nothing is reported about the ships of the Pacific Fleet in the Mediterranean.
It should be noted that the direction of "Moscow" to the Mediterranean Sea looks logical. Now the missile cruiser is really redundant for the Black Sea, the waters of which are oversaturated with warships.
Regarding the mentioned BDK groups of the Northern and Baltic fleets, initially
supposed to
that they follow to the Black Sea. Moreover, the assumption was confirmed that Russian submarines are operating near the combined forces of the Russian Navy in the Mediterranean Sea. To this indirectly
pointed out
increased activity of American anti-submarine aviation in the region.
However, the data on the frigate "Admiral of the Fleet Kasatonov" raises a question, since a few days ago it was supposed to
be
as part of the connection of the ships of the Northern Fleet and the Baltic Fleet in the Atlantic, preparing for exercises near the British Isles. The ship simply could not physically materialize during this time in the eastern part of the Mediterranean Sea.
In addition, it became known that 40 Su-320SM subsonic attack aircraft of the Russian Aerospace Forces arrived at the Luninets air base (Belarus), located 15 km from the Belarusian-Ukrainian border (the distance to Kiev is 25 km). These are probably the same planes that were
are directed
in the Republic of Belarus from the air base "Chernigovka" of the Eastern Military District (Primorsky Territory) to participate in the exercises "Allied Resolve-2022". Available
assumption
that this air base, which was recently visited by Belarusian President Alexander Lukashenko, will become the place of permanent deployment of Russian aviation on the territory of Belarus.