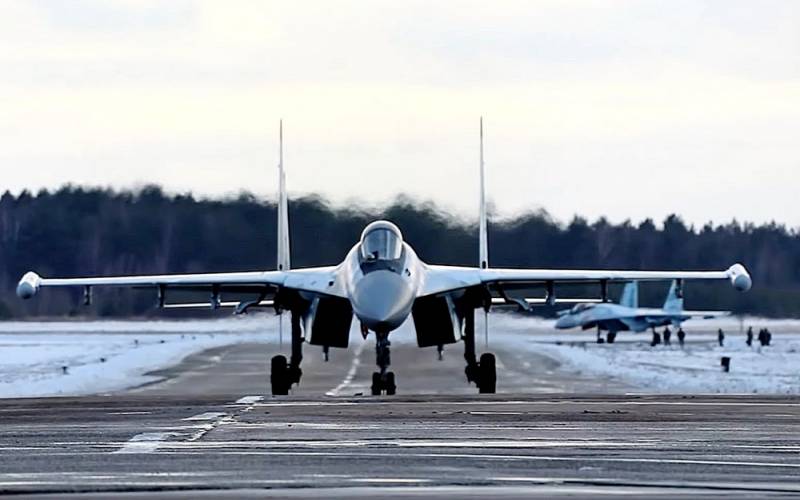 Sources from Belarus report that the deployment of a Russian airbase on Belarusian soil may become a reality in the near future. Apparently, this topic entered the practical plane after the threats of the West against Minsk.
According to sources, on January 26, representatives of construction companies were summoned to the Luninets district executive committee of the Brest region of the Republic of Belarus. They were told that as soon as possible on the territory adjacent to the local airfield, it is necessary to build several barracks and two residential buildings for the Russian military. The city of Luninets, a major railway junction and administrative center of the mentioned region, is located 228 km east of Brest near the Pripyat River, actually hanging over Western Ukraine. Su-30SM/Su-35 fighters will supposedly be based at the local airfield.
On January 27, the Russian Defense Ministry informed the public that the relocation of Su-35S fighters from the Eastern Military District to Belarus had been completed. We are talking about aircraft involved in the joint inspection of the reaction forces of the Union State of the Russian Federation and the Republic of Belarus.
It is specified that the Su-35S, which took off from the airfield in the Khabarovsk Territory, having overcome about 8 thousand km, landed safely at the airfields in the Republic of Belarus. During the flight, they made two intermediate landings at the airfields of the Central Military District.
Previously, it became known
transfer
from the Far East to the Republic of Belarus a squadron of Su-25SM attack aircraft. In this regard, we should expect an increase in Western propaganda about Russia's "aggressive" intentions.