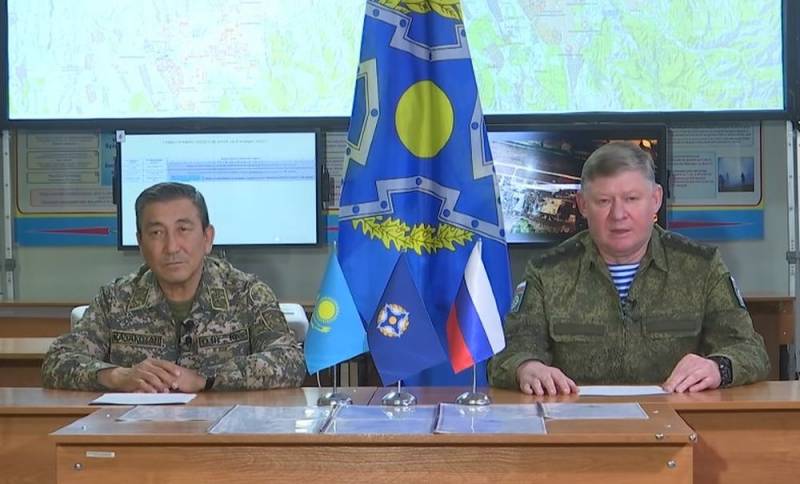 On January 9, Colonel-General Andrei Serdyukov, commander of the CSTO peacekeeping forces in Kazakhstan, commander of the Russian Airborne Forces, said that the collective contingent of the organization will carry out tasks until the situation in this Central Asian country is completely stabilized. He made his statements during a joint briefing with the Deputy Minister of Defense of the Republic of Kazakhstan, Lieutenant General Sultan Gamaletdinov.
Serdyukov noted that the indicated group of forces had completed the deployment of its forces and assets and began to fulfill the assigned tasks. He specified that currently the peacekeepers are guarding important (strategic) state, military and socially significant facilities in Almaty (Alma-Ata) and around the metropolis.
The Russian commander expressed gratitude to the Kazakh side for the prompt solution of the issues of deployment and provision of the contingent with everything necessary. In addition, he drew attention to the fact that Russian citizens who are on vacation in Almaty or with relatives who have expressed a desire to leave for Russian territory were organized by the VTA aircraft of the Russian Aerospace Forces.
On the same day, the press secretary of the President of Kazakhstan, Berik Uali, in an interview with the local state TV channel "Khabar 24", named the probable period of stay of the CSTO peacekeepers in the country.
Perhaps they will stay for one week
- suggested Wali.
We remind you that the protests in Kazakhstan began on January 2. In a few days they took
terrifying
scale, threatening chaos in the country. On January 5, President Kassym-Jomart Tokayev requested emergency assistance from the CSTO. On January 6, Kazakhstan began
arrive
the first units of peacekeepers and there were signs of a gradual normalization of the situation.
Note that on January 7 Tokayev
informed
the public that thugs from other countries took an active part in the riots on the territory of the country, and the coup attempt itself was organized from the outside, for example, Almaty was attacked by 20 thousand militants. January 8 was
arrested
Karim Massimov, dismissed the other day from the post of head of the KNB, who was accused of treason. Moreover, in the West
have been named
the statement about the militants is an invention of the Kazakh authorities.