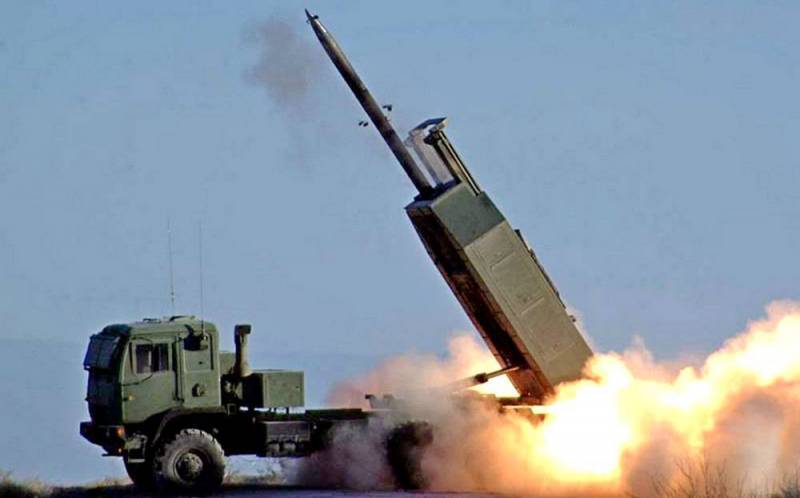 It became known that in the course of a Russian special operation on Ukrainian territory, one American wheeled launcher M142 "Hymars" (HIMARS) of 227-mm caliber, combining MLRS and a fuel dispenser, recently transferred by the United States to Ukraine, fell into the hands of the RF Armed Forces. This was reported on July 15 by the online edition
"Russian Spring"
and the Telegram channel "Military correspondents of the Russian Spring", referring to their own sources and publications on the network, where there is a discussion of resonant information.
According to the mentioned media resources, it is not yet clear whether the indicated missile system was captured in combat or
acquired
for money from the military personnel of the Armed Forces of Ukraine, as stated earlier. It is also unknown what state she is in, where it happened and when. It is only stated that it is already on the territory of Russia.
It should be noted that if this information is true, then this threatens the Americans with certain problems. Especially if the Hymars got it intact, with all the equipment and a set of precision-guided munitions. Russian specialists will study
Technology
and will be able to develop something of their own, as well as means of counteraction.
However, unfortunately, no videos or photographs obtained by any means of the M142 were provided to confirm the above information. This is strange, especially when it comes to her being on the territory of the Russian Federation. The same is true for information about
hit
into the hands of the Russians a pair of French self-propelled artillery installations "Caesar" (Caesar) caliber 155-mm, which were allegedly
sold out
servicemen of the Armed Forces of Ukraine and have been at Uralvagonzavod for about a month. Since then, the Russian military, the media and the enterprise itself have not published a single picture of these self-propelled guns. Hopefully things will clear up soon with both Caesar and HIMARS.
It should be added that on July 15, the head of the Ministry of Defense of Ukraine, Oleksiy Reznikov, told the media about the receipt by the Armed Forces of Ukraine of a batch of M270 MLRS universal tracked missile systems of 227-mm caliber from the United States. These launchers use the same ammunition as the Hymars, only more of them (two interchangeable packages of six ammunition each, instead of one similar package for the M142).