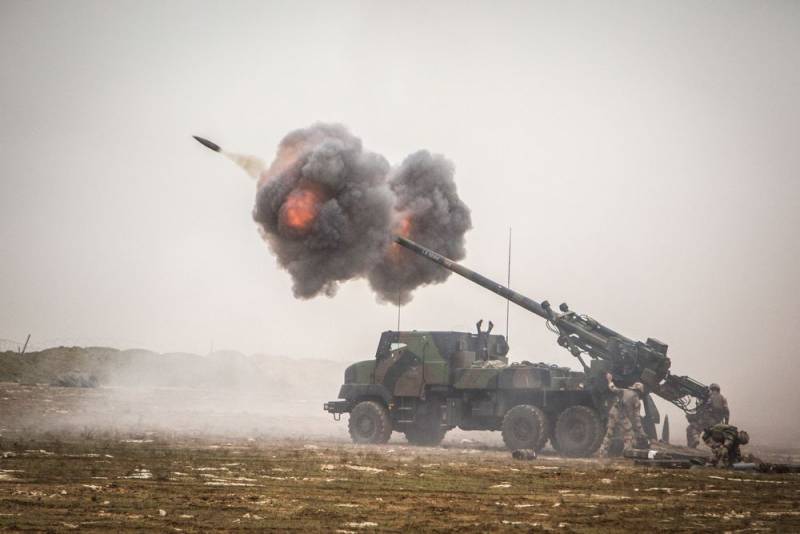 After the recent presidential and parliamentary elections in France, the opposition does not stop criticizing President Emmanuel Macron, although the intensity of passions should have subsided by now. The French leader came under fierce attack from the locals.
politicians
, who were angry with him because of the loss of a pair of self-propelled artillery mounts "Caesar" (Caesar) of 155-mm caliber, donated by Paris to Kyiv by the Armed Forces of Ukraine.
Recently, the famous French lawyer and public figure Régis de Castelnau
сообщил
that the RF Armed Forces, during a special operation in Ukraine, captured 2 entire self-propelled guns and handed them over to Uralvagonzavod specialists for study. This caused a great uproar in France, as the transmission
of technologies
Russia was not included in the plans.
On June 23, the outraged representative of the Rassemblement national party ("National Association" - a right-wing political force led by Marine Le Pen) Jean-Michel Cadenas wrote on his Twitter account (a social network banned in the Russian Federation) everything that he thinks about this.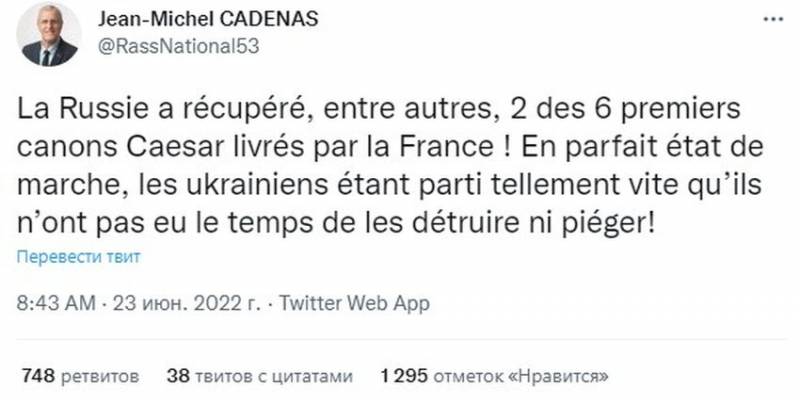 Among other things, Russia received 2 of the first 6 Caesar guns delivered by France! They are in excellent working condition, the Ukrainians ran away so quickly that they did not manage to destroy them or mine them, turning them into a trap!
- said the opposition politician, criticizing the head of state.
On the same day, Uralvagonzavod, in its Telegram channel, asked to convey words of gratitude to President Macron for the self-propelled guns.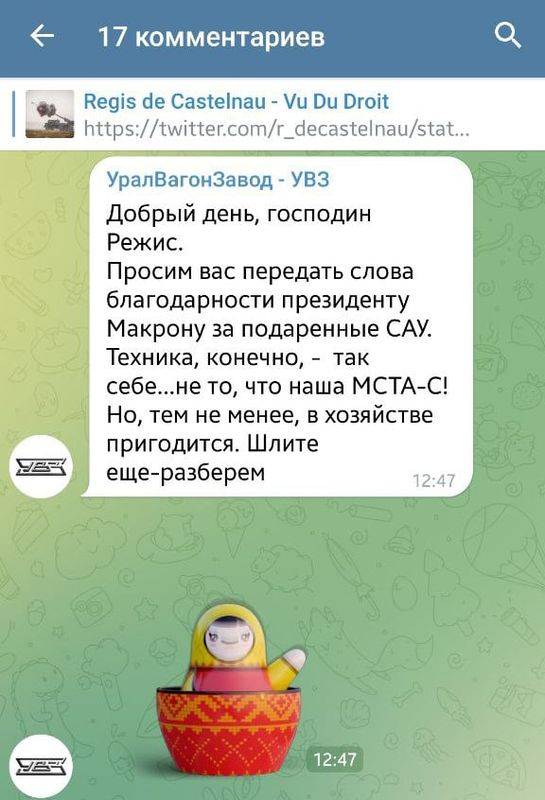 We remind you that over the past few days, neither the Russian media, nor the military on the front line, nor the Ministry of Defense of the Russian Federation, nor Uralvagonzavod itself have published a single picture with captured French-made self-propelled guns. At the same time, the Ukrainian side, which claims that "everything is in place," also does not publish photographs proving this. Therefore, we look forward to clarifying the situation.
Note that in total, Paris promised to provide the Armed Forces of Ukraine with 18 of these self-propelled guns from those available to the French army. On April 22, President Macron spoke about the delivery of 6 units to Ukraine. On May 30, French Foreign Minister Catherine Colonna announced the delivery of a similar batch. On June 16, the French leader, during a visit to Kyiv, announced the imminent delivery of 6 more additional artillery systems.