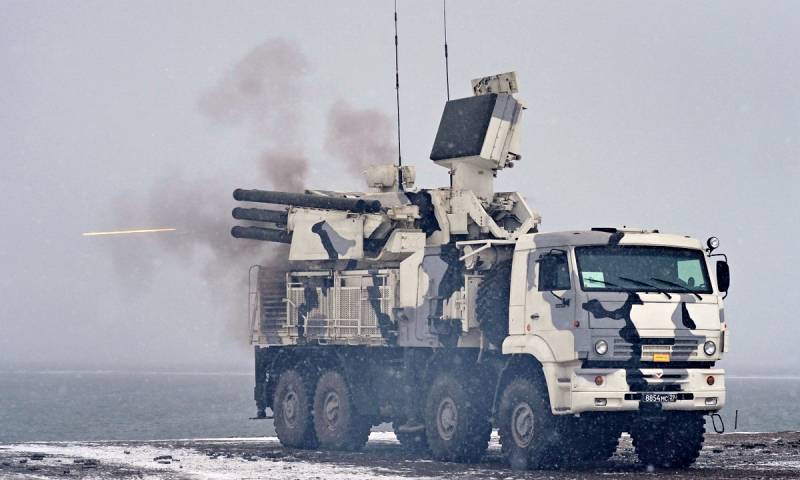 ZRPK "Pantsir-S" are transferred to Belarus by rail. These self-propelled anti-aircraft missile and gun systems should take part in the joint exercises "Allied Resolve-2022" on the territory of the Republic of Belarus and, possibly, will be delayed for some time on Belarusian soil.
This event indicates not only a temporary strengthening of the Belarusian air defense system. We can talk about the beginning of building a layered air defense system of the Union State of the Russian Federation and the Republic of Belarus in this direction, which has recently become dangerous.
We remind you that January 18 became
is known
that the Russian Federation will send two divisions of the S-400 air defense system and a division of the Pantsir-S air defense missile system to the Republic of Belarus. Probably, on the video it is this division of the "Shell". The mentioned maneuvers should take place from February 10 to February 20, and now the concentration of forces and means is at five training grounds and four airfields in Belarus.
Two days ago, the Ministry of Defense of the Russian Federation reported that the S-400 air defense system was loaded onto railway platforms and sent from the Khabarovsk Territory to Belarus. In addition, Colonel-General Alexander Fomin, Deputy Minister of Defense of the Russian Federation, informed foreign attaches at a briefing about not exceeding the parameters prescribed in the Vienna Agreement of 2011 for the number of personnel participating in maneuvers without the presence of foreign observers.
Note that the Belarusian railway workers
note
hitherto unprecedented arrival of military trains from the Russian Federation to their country. According to them, in the period from January 18 to 21, 33 trains with Russian servicemen and various military personnel entered Belarus.
technique
and the number of echelons is growing. This is not surprising, because the NATO bloc continues
increase
the number of their forces and means on the border with Belarus, masking aggressive intentions under the informational noise against Russia.