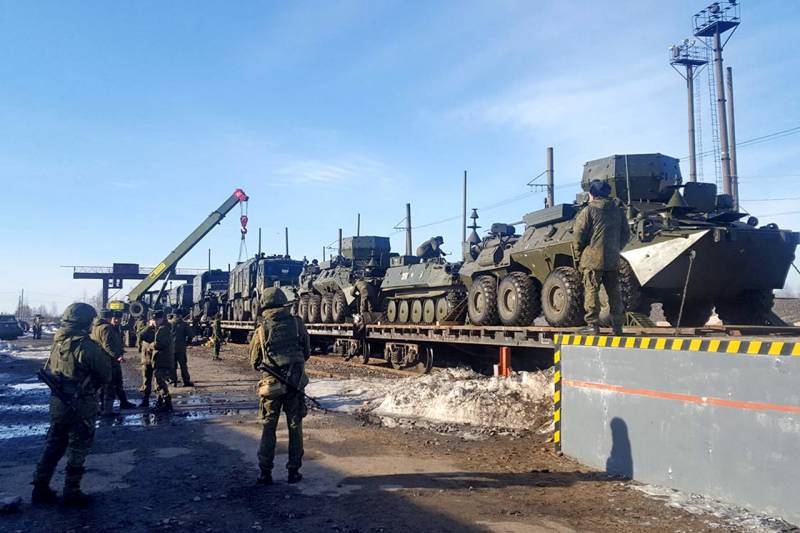 From the territory of Belarus there are reports from workers of the local railway transport, and if they are true, then the Western "partners" of the Russian Federation and Ukrainian Russophobes should be even more alarmed. In any case, the likelihood of increased hysteria about a "possible Russian invasion of Ukrainian soil" under the guise of the Allied Resolve-2022 exercises has seriously increased.
Between January 16-21, 2022 military echelons from the military
technique
and military personnel from Russia. The trains keep coming
- says the publication of the Telegram-channel "Community of Railway Workers of Belarus".
Belarusian railway workers, referring to the Timetable, are waiting for the arrival of an unprecedented number of trains from Russia with manpower and various military equipment. It is clarified that the total number of trains that should arrive in the Republic of Belarus is prohibitive, i.e. this has never been seen before - 200 military echelons. Moreover, the average number of wagons in the train is 50 units.
At the same time, military echelons include different units of rolling stock: passenger cars, box cars (including those marked with explosive materials (hazard class 1) and converted to transport people), platforms for transporting military equipment and cover cars. Representatives of the Belarusian railway industry recalled that before that, the grandiose joint strategic exercises (SSU) "West-2021" were held and "only" 29 military echelons arrived in Belarus from the Russian Federation in a month.