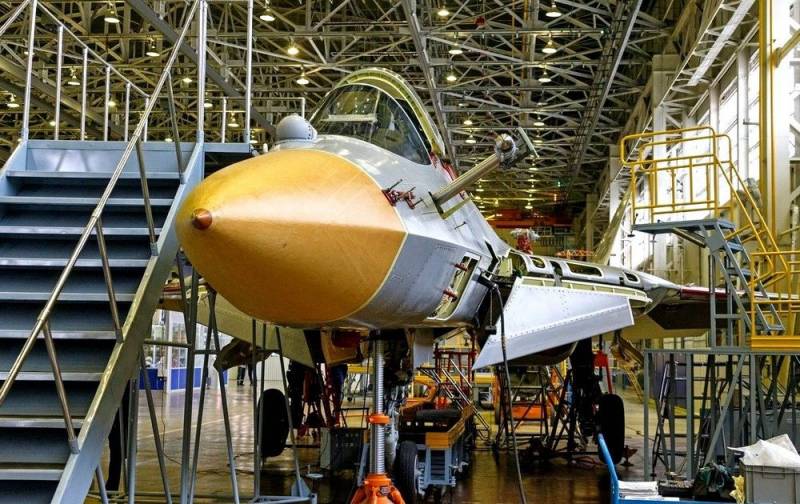 Information appeared on the Web that four Su-57 fighters produced at the aircraft plant in Komsomolsk-on-Amur were handed over to the Russian military. Thus, albeit with a slight delay, the earlier promise made by the aircraft manufacturers was allegedly fulfilled.
However, this is unverified information and no details are available. The Russian Ministry of Defense did not officially report on the receipt of these aircraft from the Russian aviation industry for the Russian Aerospace Forces, which were planned to be delivered by the end of 2021.
On December 31, 2021, the United Aircraft Corporation cheerfully reported that its enterprises have fulfilled all obligations under the state defense order and are increasing their capacity to increase the rate of serial production of the Su-57. The corresponding video was posted on the company's YouTube channel, but there is very little specifics in it.
At the same time, on December 21, the commander of the Eastern Military District, Colonel-General Alexander Chaiko, told the media during the final board of the Russian Ministry of Defense that the Air Defense Forces will receive the first Su-57 in 2022. Considering that there were no talks about other military districts, it can be assumed that he was talking about the above four Su-57s, without a time reference. Consequently, these four Su-57s will be based in the Far East, away from Russia's tense western border.
Note that the production of this batch of fifth-generation aircraft was closely monitored throughout 2021.
Chinese
,
American
и
Russian
MASS MEDIA.