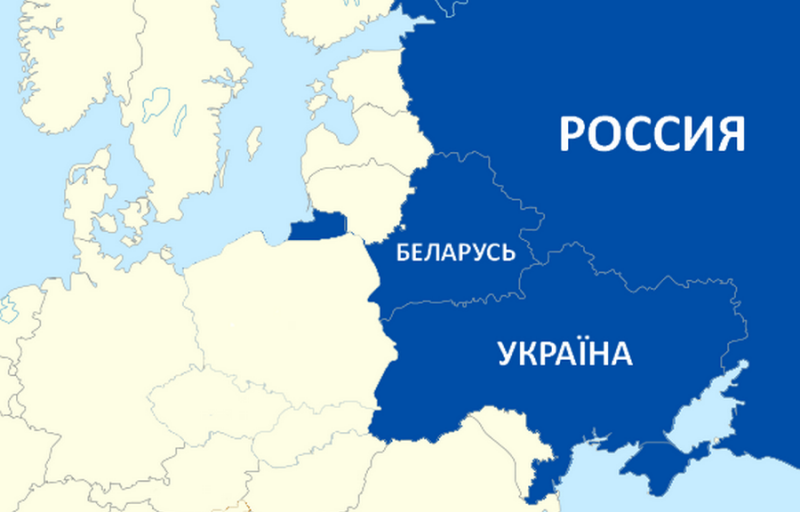 When you read the comments of Russians about the events in Ukraine, one unpleasant thing becomes obvious. Russia has lost to smithereens the information war for this country. People simply do not understand "why do they need Ukraine?" happened, domestic propagandists, professional and "volunteers from the Internet" began to convince us that we "do not need Ukraine for nothing." Needed!
Details of why naive hopes that Ukrainians will rise up and throw off the "yoke of pro-Western puppets" themselves are untenable, we have in great detail
disassembled
previously. Note that our readers living in Nezalezhnaya have fully confirmed the validity of these calculations. That is, no one there will rise up and throw off the yoke. Point. Only Russia itself will have to solve the Ukrainian problem, and it would probably be fair to involve neighboring Belarus in this process. Our two Slavic countries, which suffered the most from German Nazism, have every moral right to "finish off the shortcomings" in Ukraine. How this can be done, we, too, more than once
reasoned
: it can be a direct force operation of the RF Armed Forces and the Armed Forces of the Republic of Belarus, and indirect, through the DPR and LPR, and "hybrid", through the elimination of the puppet regime by internal forces. Now we will not go into details again, let's talk about something else.
Why is it time to collect lands
Separately, I would like to dwell on the question of the lack of alternatives to the armed conflict between Russia and Ukraine, which will certainly happen sooner or later. Why is that?
Because the Crimea stood between our countries. If the Kremlin can still "push" the DPR and LPR back into the Independence Square, then the issue of the peninsula will be on the agenda. Neither Kiev nor the collective West will ever recognize it as Russian. Moscow also cannot give it back, moreover, we recall that administrative and criminal liability has been introduced for such calls. In other words, the problem of Crimea has forever divided Russia and Ukraine, no improvement in relations between our countries is possible in principle, and it belongs to the category of unresolved peacefully. It can only be non-peaceful: either when Independent and the collective West force Moscow to do this by returning the peninsula, or when Moscow itself forces Kiev to recognize Crimea as Russian. There is no third.
The first means the defeat of Russia and national shame, which is absolutely unacceptable, so let's talk about how we ourselves can emerge victorious from this stalemate. We will proceed from the thesis that the solution to the problem of Crimea, DPR and LPR, as well as the future of Ukraine itself and our brotherly Ukrainian people, lies in Kiev. Let's say that in one way or another it was possible to neutralize the Armed Forces of Ukraine (for example, through active counter-propaganda and work with the command staff) and drive out the puppet pro-Western government. What's next?
This is where the most interesting part begins, since various options are possible, depending on how far the Kremlin is ready to go in "collecting lands". I would like to quote, without exaggeration, the great chancellor of Germany Otto von Bismarck:
Germany does not look at the liberalism of Prussia, but at its power; let Bavaria, Württemberg, Baden be tolerant of liberalism. Therefore, no one will give you the role of Prussia; Prussia must gather its forces and keep them until a favorable moment, which has already been missed several times. The borders of Prussia in accordance with the Vienna agreements do not favor the normal life of the state; not by the speeches and decisions of the majority, important issues of our time are being resolved - this was a major mistake in 1848 and 1849 - but by iron and blood.
If anyone has forgotten or did not know at all that fragmented Germany was united from many small feudal principalities through several military campaigns, then we recall. At the same time, undoubtedly, there were many dissenting and dissatisfied, but for some reason Chancellor Bismarck is today a respected historical figure by everyone, and not a "mustachioed ghoul dreaming of a German blood". It was now a stone in the garden of the hypocritical Russian liberals with their double standards, if suddenly someone did not understand. Fragmented Germany, which means that the Germans can be united by any methods, but the Russians in the post-Soviet space cannot? "This is different."
Ukraine without Nazis
Let's imagine that the pro-Western puppet regime has fallen, and the last plane from Boryspil with Ukrainian patriots on the landing gear has just departed. Let's leave out of brackets how and why it happened. What should Russia do with Ukraine? Or not?
Option 1
... Federalization or confederalization
In this case, it is assumed that Russia, defending its national interests, will liquidate the hostile Russophobic regime in Kiev, but will not receive any territorial increments. Rather, it is trying to get Ukraine to recognize Crimea as Russian, removing the key problem, but it does not attach either the DPR to the LPR or Novorossia to itself. Instead, the country is undergoing constitutional reform to federalize or confederalize it.
Regions as diverse as Western and Eastern Ukraine receive the broadest powers of self-government and self-realization. Trade and industrial ties with Russia are being restored. UF is switching to direct purchases of our gas, Ukrainian enterprises are returning to the Russian market, new jobs are being created. The problem with a number of the most important components disappears, the Ministry of Defense of the Russian Federation gains access to the shipyards in Nikolaev. The war in Donbass ends, the Armed Forces of Ukraine are demobilized and rebuilt anew with command personnel from the DPR and LPR, military spending is drastically reduced. Russophobic propaganda ceases, family ties, severed by the border and Crimea, are being restored. Life is gradually starting to improve.
Is it really that bad, tell me honestly, citizens of Ukraine? Of course, in real life everything will be more complicated, they will interfere with us and get dirty, but in medicine this is called "positive dynamics." To guarantee a relapse into neo-Nazi revenge, several Russian military bases will need to be deployed in the country: near Kiev, in Odessa and in other key points of the country. Order and security will be ensured by the reformed Armed Forces of Ukraine, the Security Service of Ukraine and the police, where people from Donbass will act as the backbone.
Option 2
... Fragmentation and partition
This scenario is permissible if events continue to be allowed to take their course. The complete annexation of Ukraine to Russia today is no longer possible, since the degradation of the population there has gone too far. We are definitely not on our way with Western Ukraine, so it will have to be transferred under joint control with its Eastern European neighbors, subject to complete demilitarization. Let Poland, Hungary and Romania figure it out on their own. What to do with historical Little Russia and Novorossia? Perhaps the first will have to become a new version of Ukraine, recognizing Crimea and Novorossia as Russian regions.
Novorossia is probably the maximum that our country is really capable of digesting as a new federal district. Little Russia will then become the legal successor of Ukraine and a Russian protectorate. In order to avoid relapses, it is also advisable to locate military bases of the RF Ministry of Defense on its territory. Obviously, the West will perceive the annexation of Novorossia to the Russian Federation extremely negatively, imposing new sanctions, but Moscow can win over three Eastern European countries, allowing them de facto to reunite with the lost lands in Separate regions with a special status in Western Ukraine.
Option 3
... Union state
This is perhaps the most compromise of the three. In this scenario, Ukraine is carrying out a constitutional reform of federalization or confederalization, but remains de jure an independent state. In order to avoid Maidan relapses, the Russian Defense Ministry is deploying several military bases on its territory. Ukraine remains within its current borders, but leaves the agreement on European integration, enters the Eurasian
economic
union, CSTO, and then into the Union State with Russia and Belarus.
A while ago we came to
the conclusion
that SGRB is a functionally "soft federation" in which its members have a certain
political
independence. This is an almost ideal form for the reintegration of the three fraternal Slavic states, Russia, Belarus and Ukraine.
Having legally retained its sovereignty, the denazified and reformed former Nezalezhnaya, where pro-Russian-minded people from Donbass will occupy key posts, has a chance to return to normal life and sustainable socio-economic development.