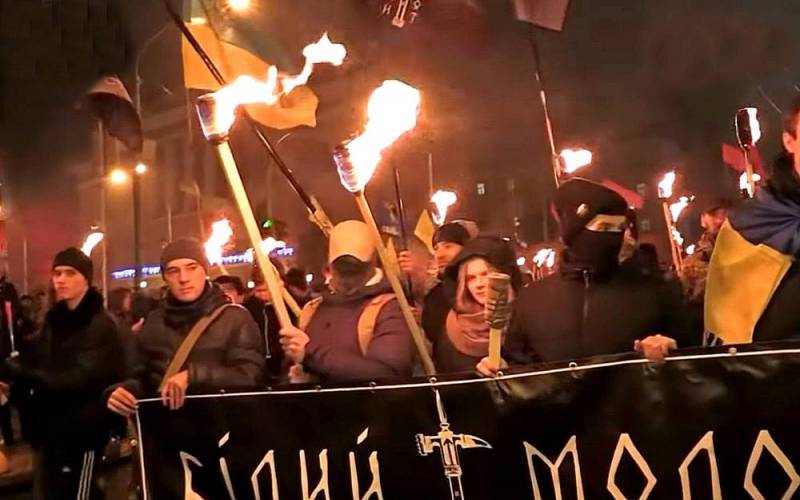 When we talk about the future of Ukraine, usually the conversation boils down to the fact that the Ukrainians themselves must decide their own destiny. Say, it's time to realize that your choice was wrong in 2014, to rise up, throw off the "evil power" and drive out the invaders, like Minin and Pozharsky, and then completely bring Independent back into the bosom of the "Russian world", as Bogdan once did. Khmelnitsky. Well, we, of course, will scold them a little, but then we will definitely forgive and accept them back. How justified are such expectations in general, and how can popular uprisings actually end?
A huge problem is that the certainly great historical deeds of Minin, Pozharsky and Khmelnitsky are currently not being interpreted quite correctly. So, it is customary in our country that the Time of Troubles ended because the common Russian people got tired, united, took axes and pitchforks in their hands and went to drive out the invaders from Moscow. And, naturally, he achieved success in this. Let us say right away that everything was somewhat different, and it is very unpromising to rely solely on the people's initiative, which will return Nezalezhnaya to us on a silver platter. Let's try to somehow transfer those events to modern Ukrainian realities and see what can come of it.
Yourself all by yourself
So, we proceed from the assumption that the citizens of Ukraine realized that their choice in 2014 was a big mistake, they can no longer live under the rule of oligarchs and want to return to Russia. Suppose that there is an optimal situation for some mass demonstrations: an energy crisis, winter, unemployment, the inability of the population to pay bills, and so on. Consider two basic options for the development of further events.
№ 1.
Peaceful protest
... Suppose that Ukrainians decide to oppose the current authorities with a demand for changes: the departure of the current president and government, fair elections, a referendum on the restructuring of the state, and other wonderful initiatives. How can thousands and even millions of people coordinate their actions? Well, for example, through instant messengers and other social networks, unless, of course, they are blocked. Let's say the activists have chosen the path of peaceful protest. Tens, hundreds of thousands, perhaps millions of Ukrainians took to the streets with their slogans. So, what is next?
If the authorities don't want to leave? If they look at what is happening, and then give an order to law enforcement agencies to disperse the protesters, and arrest their leaders? We have before us the so-called "Belarusian scenario", when the opposition could not achieve anything peacefully. In fact, this is how the Maidan could have ended ingloriously in 2014, if President Yanukovych had fulfilled his official duties.
№ 2.
Armed protest
... For example, the opponents of the current regime looked at the events in neighboring Belarus and concluded that attempts to shame the authorities alone cannot be done. Consequently, they need to somehow organize themselves into underground cells on a territorial basis, arm themselves, coordinate their actions. An old anecdote immediately comes to mind, about the fact that two Ukrainians are a partisan detachment, and three Ukrainians are a partisan detachment with a traitor. How quickly do you think the SBU and the Right Sector (an extremist organization banned in the Russian Federation) will become aware of such underground activities? The activists will be taken into the development and either immediately accepted, without even allowing them to speak, or they will wait, allowing them to speak, in order to then be demonstratively harshly defeated.
Let's assume that the events follow the second option. Somehow, the underground received weapons and began active actions to seize power on the ground. What's next? You are sure that the performances will take place all over the country at once, or the matter will be limited to some regions. Well, for example, Odessa. People came out and got up from the sofas. What's next? To proclaim another People's Republic and invite Putin to come? Well, the DPR and LPR have been asking the Kremlin for recognition for the seventh year, being in a blockade and under constant shelling. And even if Putin decides to help, what will it look like? Russia does not have a common border with the Odessa region. Will we have to send an open air force? Then we will receive new sanctions, and Germany will block the work of Nord Stream 2, as promised. Kiev will not stand on ceremony, but will introduce the ATO regime and send the Armed Forces of Ukraine to suppress. Without direct military support from Russia, such an independent action will end in a military defeat and a trial of the activists.
It turns out that it is naive to hope that the Ukrainians will free themselves from the occupation of the Russophobic pro-Western regime, to put it mildly. But what was it really like?
How it was
Let's try to tell the events of the end of the Time of Troubles in a simple and modern language.
First and foremost: no ordinary people rose up, did not unite and did not go with axes and pitchforks to free the Kremlin from foreigners. In the commercial Nizhny Novgorod, the local merchants, whose financial interests were suffering from the ongoing mess, decided to try to restore order on their own. For this, Kuzma Minin, an anti-crisis manager, was appointed from among them. He received the broadest authority to raise funds. What exactly means and why? And then, that the professional military should fight, and not men with pitchforks and axes. It was they who went to liberate Moscow from the invaders, and they did it not for an idea, but for a fee, and a very high one. The main and undoubted merit of Minin was that he was able to organize the collection of funds to pay for the services of "military experts", their armament and supply of the campaign.
Second: to legalize this enterprise and its results, a noble, well-born person was needed at the head. It was Prince Pozharsky, who did not agree the first time, because he wanted to make sure that the matter was serious. A hereditary aristocrat was needed, because no one would negotiate anything with merchants and peasants. Let's not forget that the time of the action is the Middle Ages.
Third: a program of action was needed after the expulsion of the invaders. The idea was to put a young man from a noble, but far from the first in importance, family to reign, so that "adult uncles" could "rule" the country themselves behind his back.
And it turned out, because there were all the components of success: a clear plan of action "from and to", funding, professional armed people and competent command.
You can also see how Bohdan Khmelnitsky returned Ukraine to Russia. Note that at his disposal were initially armed, trained and organized people, Cossacks. At the initial stage, there was a powerful ally - the Crimean Khanate, and the enemy in the person of Poland did not have the opportunity to immediately suppress the uprising. Also, the Cossacks had options for where to go: either to the Turks, who are authoritative and strong, but are far away, which is very beneficial for self-government, or to Moscow, which also did not immediately dare to accept them. It turns out that there were all the ingredients for success, including military capabilities, the presence of an ally and some options for the future. Note, when the Poles were able to get down to business in earnest, they again regained the Right-Bank Ukraine for a long time.
And which of the following is present in modern Ukraine?
How can it be
In fact, there is something. There is the DPR and LPR, which, on the one hand, are the strongest anti-advertising for everyone who, hypothetically, would like to proclaim independence in other regions of Ukraine. On the other hand, with all these disadvantages, Donetsk and Lugansk have their own armed forces, which can receive supplies and reinforcements as needed. Since Moscow did not recognize the independence of the republics, they are de jure considered the territory of Independence. Theoretically, the "campaign to Kiev" can start from the Donbass.
Another question is that they will be opposed by the Armed Forces of Ukraine, but there are options here as well. If the Russian special services were active among the Ukrainian officers, they would have a chance to attract part of the command staff to their side. As a result, the Armed Forces of Ukraine at the right time could refuse to fight with their people, take neutrality and de facto be split from within. So, "Bogdan Khmelnitsky-2", and at the same time the new "Minin and Pozharsky" could be some Ukrainian general and middle-class politician who will lead the combined forces in the "campaign against Kiev." As a gratitude, they could subsequently receive some "buns", such as a large sum of money, a house on the Black Sea and state protection.
It is even more important to provide a certain image of the future for Ukraine. What exactly will happen if pro-Russian forces come to power? Cancellation of the Euro-association or revision of its conditions? Joining the Customs Union and the Eurasian Union? Will the old industrial ties be restored, and then what to do with import substitution? Will there be any persecution of those who participated in anti-Russian activities, or will everyone be forgiven for joy? What will Ukraine be like, federal or confederate? What will be the further position of Kiev on Crimea? Will a Russian military base (s) be located in Ukraine as a guarantor that there will not be another coup later, or will it be entrusted to the Donbass militia forces, etc.? There are many questions to which you need to know the answers in advance before inciting people to any open speeches.
To summarize: it is simply pointless to expect ordinary Ukrainians to overthrow and expel pro-Western puppets themselves. This is possible only as a result of consistent and purposeful work at the state level with appropriate planning, funding and organization. We will not sit out anything good by simply sitting in exactly one place.