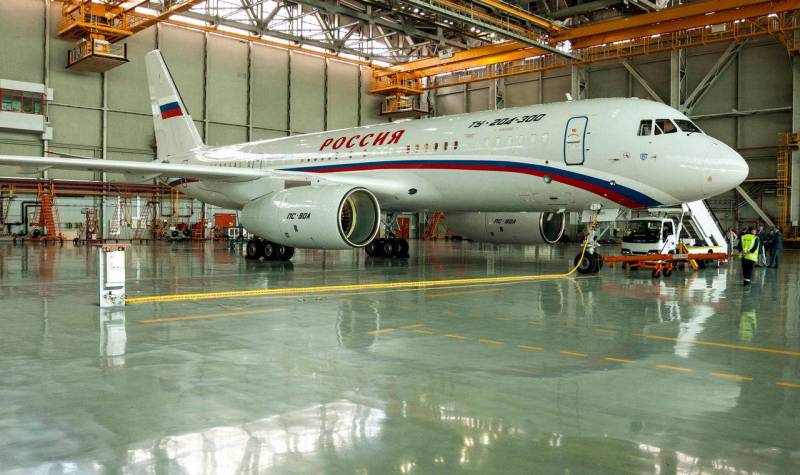 About a week ago, the well-known specialized publication Kommersant published one
news
which caused a great public outcry. According to him, the promising Russian medium-haul airliner MS-21 is offered for sale much higher than the market value of its direct competitors in the face of Airbus A320 / A321 and Boeing 737-800 and MAX. What is it, the domestic aircraft manufacturer's abuse of its market position, or are other factors playing their role?
But yours!
With pricing in the aviation industry market, everything is not quite simple. There is a so-called catalog price, which for the Airbus A320/A321 and Boeing 737-800 and MAX models ranges from $100 to $105 million, but there is also a market price of about $50 million. Such a significant discount is provided by a large order, which can only be afforded by a serious air carrier. In some cases, if the aircraft is made under the personal order of some Arab sheikh or the president of a banana republic, its cost may be much higher than the catalog price.
So, according to Kommersant, in 2021, for the Russian MS-21, equipped with American Pratt & Whitney engines, they asked for from 58 to 68 million dollars. The medium-haul airliner was supposed to be sold in 2022-2024, but due to sanctions, the power plant from the United States became unavailable, and therefore the deadlines were shifted. In December 2022 - January 2023, the State Transport Leasing Company offered air carriers to purchase a promising MS-21 at a price of 50 to 54 million apiece. The deadlines for completing the order were set for 2028-2030. Why, then, is a domestic aircraft, which should be as import-substituting as possible and not depend on foreign components purchased for foreign currency, noticeably more expensive than Western competitors at a market price?
The answer lies on the surface. Unlike the Airbus A320/A321 or the Boeing 737-800, the MS-21 has not even been put on the assembly line yet. When it begins to be mass-produced by the end of the decade, these volumes will be small at first, increasing year by year. The need to hastily substitute imports for a huge number of components, including "black wings", also could not lead to a cheaper project, rather the opposite. The same is true for its power plant, since the PD-14 is not yet produced in large batches. Well, the desire of Irkut to earn extra money on the domestic market that has become empty due to sanctions should not be forgotten.
Everything is natural. The MS-21 will be able to really reveal its potential in about 10 years. These are the realities.
Carcass
Meanwhile, all this time Russia had its own quite suitable medium-haul aircraft, which was undeservedly pushed into a corner. This is a family of Tupolev Tu-204/214 liners, which are in the same market segment as the MS-21.
I would like to remind you that we raised the issue of the need to "renovate" the Tu-204/214 liner back in
ARTICLES
dated December 26, 2021. The aircraft is reliable and, unlike the MS-21, it already has about 50 international and Russian safety certificates and additions to them. Its huge advantage is that the liner is produced entirely from domestic components. And for some reason, the critics forget to mention that the Tu-204/214 costs about 30 million dollars apiece!
Instead, they pounce on the Soviet liner because it supposedly has engines that are not economical enough according to European standards. Right, it's funny. If suddenly someone is not in the know, then under the Iranian order, PD-90A3 power plants with significantly improved characteristics were developed, which removed all such claims. True, later on, at the suggestion of American partners and local lobbyists, they preferred to forget about these engines.
Like us and
predicted
, left with nothing, the government of the Russian Federation nevertheless decided to order a small batch of Tu-214 from the Kazan Aircraft Building Plant, while the MS-21 is being brought to mind. Meanwhile, this Soviet-designed medium-haul liner has great potential even today.
At first
, on its basis it is possible to develop a cargo version and a passenger version with a shortened fuselage and at the same time an increased flight range. These are completely new market segments where there will be no
intersection with MS-21
.
Secondly
, a medium-haul liner is almost
perfect platform
to create an anti-submarine aviation complex (PLAK) to replace the few aging Il-38 and Tu-142 PLO aircraft. In addition, on the basis of the Tu-204/214, several modifications have already been created specifically for the needs of the RF Ministry of Defense - two Tu-214R integrated reconnaissance aircraft and two Tu-214ON reconnaissance aircraft.
Thirdly
, leaving the Tu-214 in Kazan, it is possible to transfer the production of his half-brother Tu-204SM to Iran. Yes, at one time Tehran was very interested in this model, as well as the short-haul Tu-334, wanting to buy a license for it. Considering that Iran has de facto become a key strategic partner for Russia in the Middle East, it would be expedient to deepen
economic
cooperation by organizing on a parity basis a joint aircraft production in the Islamic Republic.
Key components, including the power plant, can be left in Russia, and the remaining 50% of components can be produced in Iran, providing it with sales and subsequent service.
equipment
. Thus, it would be possible to increase the production of components for the Tu-204/214 family in our country, reducing the cost of production and entering new markets in the Middle East.