Between two prominent Western leaders - US President Donald Trump and his French counterpart Emmanuel Macron - the conflict continues to develop. So, Macron said that he and his country did not want to be vassals of the United States.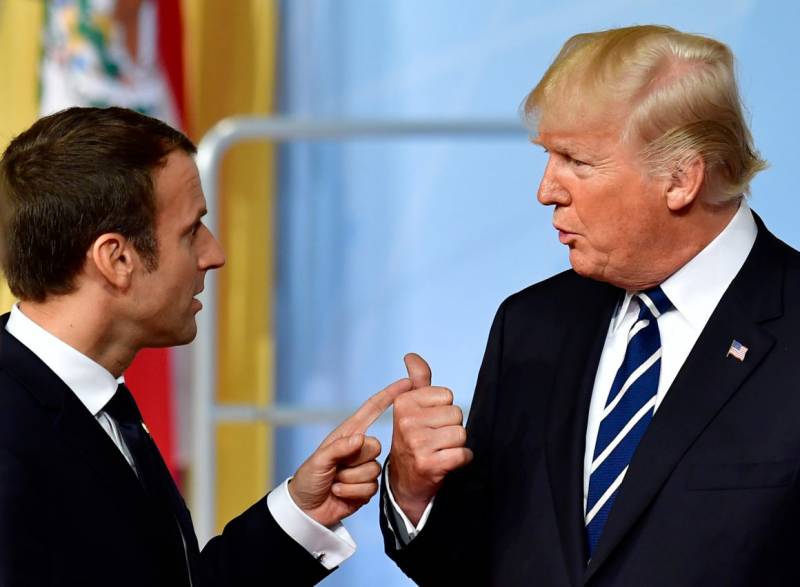 At the same time, the French leader noted that France intends to consider Washington its historical ally and continue cooperation.
This is an ally with whom we take all the risks with which we conduct the most complex operations. But being an ally does not mean being a vassal
- said Macron.
In addition, spokesman for the Champs Elysees, Benjamin Grieveau, criticized Trump for his anti-French remarks on his microblog on Twitter. Like Macron, Grivo emphasized that good, sincere relations must be maintained between the two countries, as they are historical allies. However, the representative of the French government pointed out to Trump the need to observe elementary decency. Maneau repeated the words of the president of his country that diplomacy is not carried out on Twitter, but through bilateral negotiations.
It should be recalled that disagreements between Washington and Paris broke out over the idea of ​​Emmanuel Macron to create a pan-European army, which, according to the head of the French state, is necessary to defend against Russia, China and the United States. The fact that an army independent of Washington might be created in Europe
aroused the anger of trump
which, among other things, demanded more involvement from France in NATO funding.
It came to the point that the American president
spoke scornfully of the French people
, recalling the defeat during the Second World War. The Russian senator and journalist Aleksey Pushkov answered this remark, who recalled that without the victories of the USSR in Stalingrad and Kursk, the Nazis would not have allowed American forces to land in Europe.