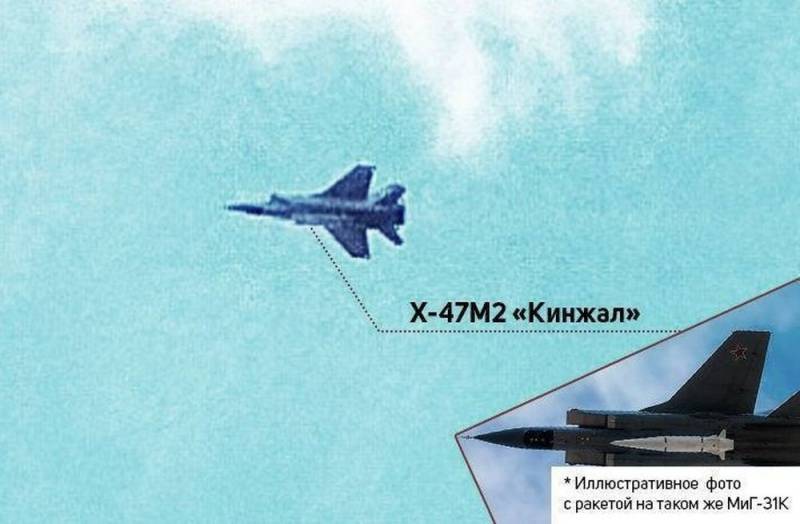 On November 13, an air alert was announced twice in Ukraine over the entire territory of the country. This was due to the fact that, according to the monitoring group "Belarusian Gayun", supposedly high-altitude fighters MiG-31I (MiG-31K) of the Russian Aerospace Forces with hypersonic missiles 9-A-7660 "Dagger" (X-47M2 " Dagger"), having a range of up to 2 thousand km.
The observers informed that they had evidence of training flights of said strike aircraft with said ammunition. For example, an aircraft with registration number RF-92339 was recorded flying over Belarus, armed with a hypersonic aeroballistic missile, accompanied by a fighter jet from the Baranovichi air base.
Separately, I would like to note that before you is the first photo on the entire Internet, where the MiG-31K of the Russian Aerospace Forces under the number RF-92339 carries the Dagger missile. What does it mean? Firstly, this photo for the first time visually confirms that the MiG-31 with the number RF-92339 was converted to modification K (it can carry the "Dagger"), before that such information was only about RF-92462. Therefore, it is logical to assume that the 3rd MiG-31K with the number RF-92333, which is located in Machulishchi, can also carry the Kh-47M2 "Dagger" missile.
- says in the publication of the Telegram channel "Belarusian Gayun".
Attention was also drawn to the fact that as early as mid-October such a possibility was predicted, when three MiG-31K aircraft for the first time
появились
over Minsk. At the same time, three Il-76 military transport aircraft of the Russian Aerospace Forces (RF-86902, RF-76722, RF-76724) flew to the Machulishchi airfield, which could well have brought Kinzhals, is summarized in the material of the monitoring resource.
We remind you that recently British military intelligence also
signaled
on the possible detection of Kinzhal missiles in Belarus.