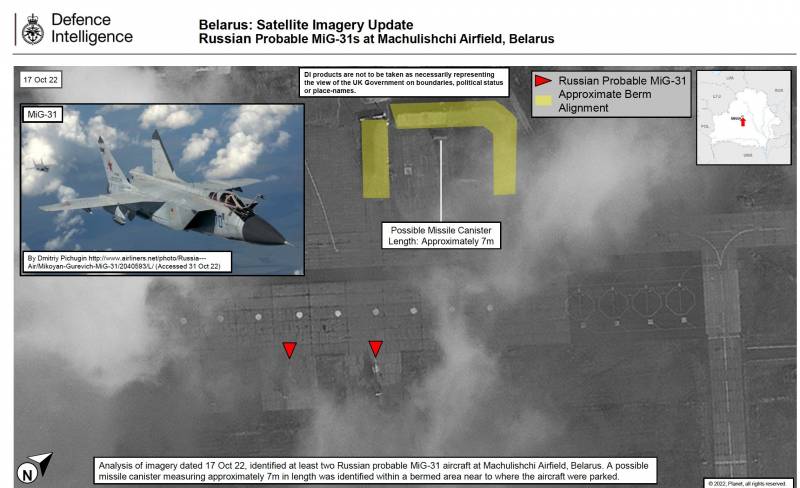 Right after
emergence
In mid-October, in the skies over Minsk of Russian MiG-31 fighters, some experts predicted that hypersonic Kinzhal missiles could also materialize in Belarus. On November 1, British military intelligence (Defence Intelligence) informed the public that some time ago it allegedly revealed the mentioned aircraft weapons at one of the Belarusian airfields.
It should be noted that DI is one of the key members of the British intelligence community. But this is not an independent structure (department), unlike MI5, MI6 and the Government Communications Center, but is part of the UK Ministry of Defense as a division.
According to the communiqué, two MiG-17 fighters were recorded on a satellite image dated October 31 at the operating Machulishchi airfield near Minsk. At the same time, a large container was seen in a protective earth embankment next to them. After that, it was assumed that it contains a hypersonic missile 9-A-7660 "Dagger" (X-47M2 "Dagger"), and the aircraft are its carriers in the MiG-31K (MiG-31I) variant.
It is likely that the container is associated with the AS-24 KILLJOY air-launched hypersonic missile (NATO code for the Kinzhal missile - ed.), a large-sized munition for which the MiG-31K variant is adapted
- says the communique.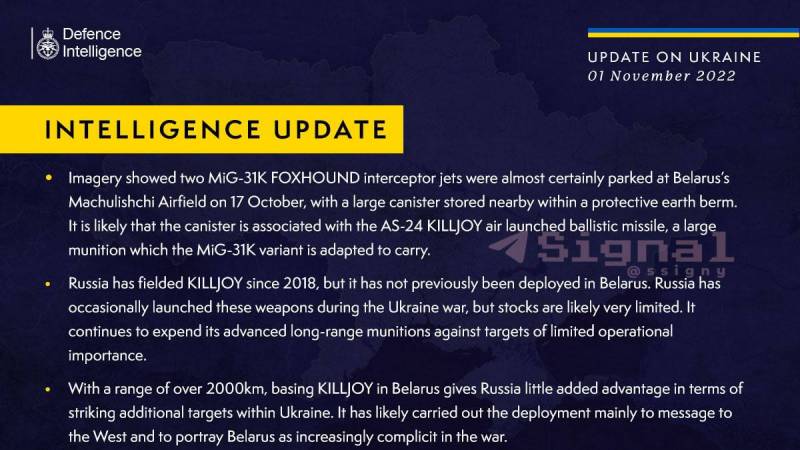 DI clarified that, given the range of such a missile of 2000 km, the deployment of "Daggers" in Belarus gives Russia a slight advantage in terms of hitting additional targets on the territory of Ukraine during the NWO.