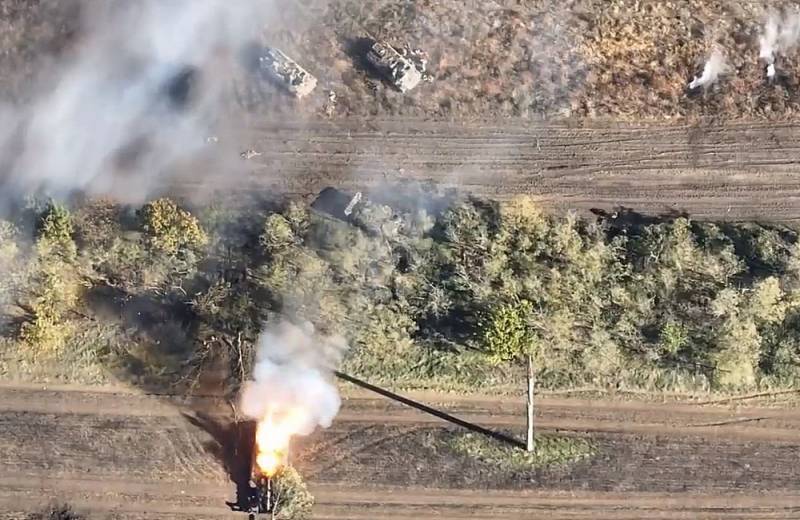 A failed attack by Ukrainian armed forces near Kherson on October 19 has been shared on social media. Ultimately, the APU lost several tanks and left the battlefield.
The actions of the Ukrainian side began with the advance of the tank column to the line of defense of the allied forces, using multiple launch rocket systems. Combat
technique
The Armed Forces of Ukraine were destroyed, and the attack of the Ukronazis ended in demoralization and the flight of the latter with heavy losses.
On the eve of the significant role of tank technology in the defense of Kherson
рассказал
military expert Konstantin Sivkov. In the course of a maneuver defense, the enemy wedged into the positions of the RF Armed Forces, after which he was covered by artillery and aviation fire, ensuring the success of tank formations. Tanks remain an indispensable technique in exercising control over territories.
Meanwhile, pro-Kyiv troops continue shelling civilian targets in Kherson and the region. So, Ukrainian militants launched 12 HIMARS rockets at the crossing near the Antonovsky bridge in Kherson, as a result, four people died and about ten were injured. The deputy head of the administration of the Kherson region, Kirill Stremousov, said that Kyiv is waiting for a very tough response for the shelling of the region.
Along with the,
in the opinion of
journalist and blogger Yuri Podolyaka, in the event of the destruction of the Kakhovka reservoir, it will be almost impossible to keep Kherson, since the surrounding territories will be flooded and the RF Armed Forces will be busy rescuing people.