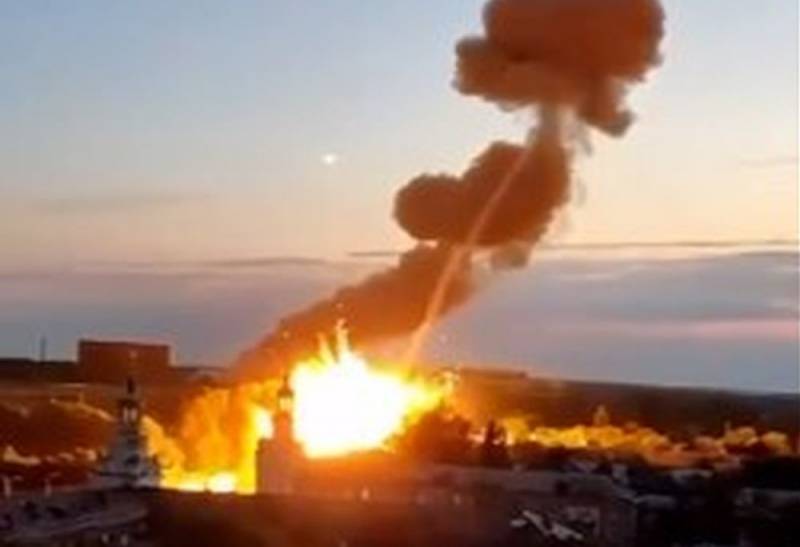 In the process of conducting a Russian special operation on Ukrainian territory on the evening of July 15, aircraft of the Russian Aerospace Forces
inflicted
a blow to the production areas of the Yuzhmash plant in the city of Dnepr (formerly Dnepropetrovsk), where, according to the Russian Ministry of Defense
were made
components and carried out the repair of Tochka-U ballistic missiles, as well as rockets for MLRS for the Armed Forces of Ukraine. At the same time, one feature was noticed: anti-aircraft guided missiles (SAM) of the Ukrainian air defense system could not intercept Russian cruise missiles (CR) flying towards the target.
The video below, compiled from various videos taken by eyewitnesses that evening, shows how the KR hit objects on the ground, while the SAMs still continue to fly in the sky. This indicates that the air defense system does not cope with the tasks set, because missiles must intercept (shoot down) missiles in the air.
This was noticed not only by the editors of the Reporter website. For example, DPR First Deputy Minister of Information Daniil Bezsonov posted another video on his author's Telegram channel. People took it off the balcony. The footage clearly shows that the Russian missile defense system had already struck the target at the moment when the Ukrainian missile defense system had just reached the interception point.
A unique video of yesterday's attack on an object in Dnepropetrovsk, which shows how a Ukrainian air defense missile took off to intercept our missile, but did not have time
Bezsonov commented on July 16.
In turn, the military commander of the Komsomolskaya Pravda Publishing House, Alexander Kots, pointed to another incident that occurred on July 15 near the city of Dnipro. Here, residents documented a breakthrough in the Ukrainian air defense system of the Russian Kyrgyz Republic. SAM, flying to intercept, explodes, and the CD flies further. Some videos are served without sound, as they contain a large amount of profanity.
A very revealing video of how Russian cruise missiles break through enemy air defenses on approach to Dnepropetrovsk
Kotz wrote on July 16 in his Telegram channel.
In this regard, it is worth noting that all the statements of the Armed Forces of Ukraine and other functionaries of Ukraine about the interception of 50% of Russian missiles by the Ukrainian air defense system do not hold water.