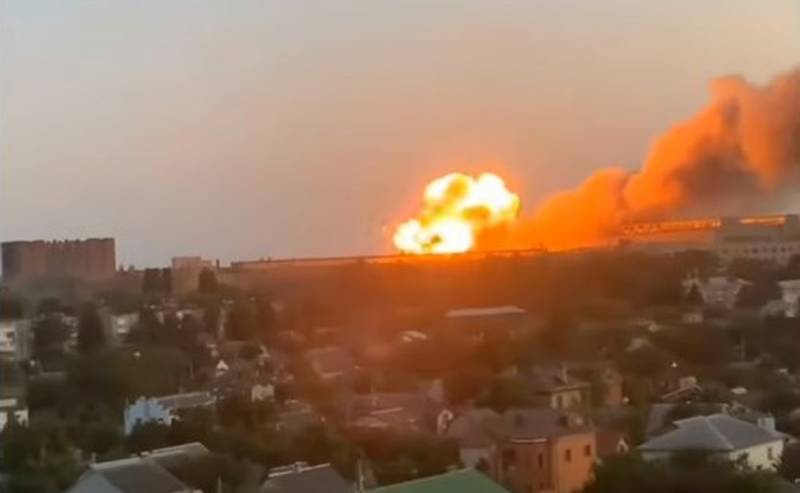 On the evening of July 15, during a Russian special operation on Ukrainian territory, the Russian Armed Forces launched a missile attack on the Yuzhmash plant in Dnipro (formerly Dnepropetrovsk). Footage taken by eyewitnesses from the scene appeared on the Web.
The video below shows how at least three cruise missiles hit the plant's buildings. Documented "arrivals" and the explosions that followed, the fires that arose and columns of smoke over the city. The sound in the video was removed due to the large amount of profanity.
The Ukrainian military claims that it was Russian strategic air-to-ground cruise missiles fired from the Stavropol Territory and the Caspian Sea by Tu-95 missile-carrying bombers of the Russian Aerospace Forces. As it was in fact, it will become known, probably, from the report of the Russian Ministry of Defense.
It should be noted that the State Enterprise "Production Association "Southern Machine-Building Plant" named after A. M. Makarov" ("Yuzhmash") is a leading Ukrainian company in the rocket and space industry, which has serious
technological
and other competencies in this area. Yuzhmash produces a wide range of products. For example, they manufacture the main structures of the 1st stage of the American Antares launch vehicle, make racks for An-178-100R aircraft under a contract with the Antonov State Enterprise, produce RD-843 engines for the 4th stage of the European launch vehicle. Vega, are producing Zenit launch vehicles for the Sea Launch and Land Launch programs, have created for Firefly Aerospace (USA) an overall docking layout of the first stage of the Beta launch vehicle, the development of Ukrainian ground operational-tactical missile systems (OTRK) "Sapsan".