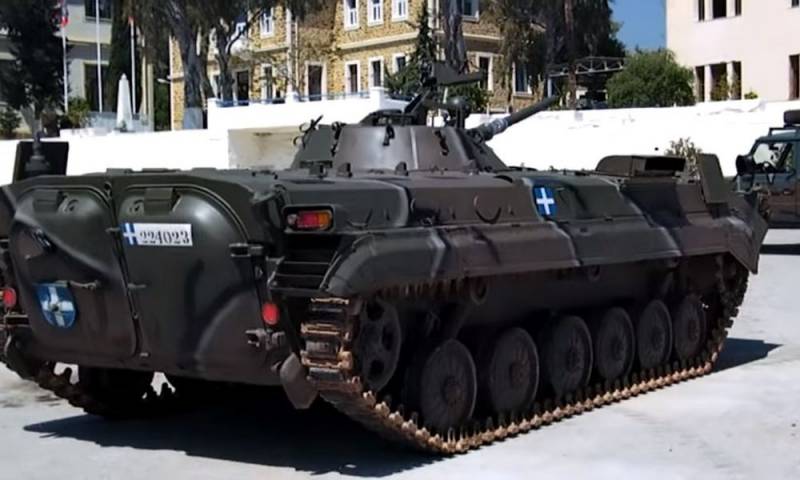 Greek media report that the government of the country is going to hand over to Kyiv in the near future an "incredible amount" of various weapons and ammunition systems to equip the Armed Forces of Ukraine. The published amount does look impressive, although this is only a small part of the weapons that Athens can give Kyiv at the expense of Berlin.
It should be noted that a few days ago, German Chancellor Olaf Scholz, criticized in the West, mentioned that Soviet-style BMP-1s would be delivered from Greece to Ukraine. This is armored vehicles from the stocks of the National People's Army of the GDR, which was once transferred to Athens. In return, the Greeks will receive from Berlin the same number of German BPM Marder ("Marten").
Now Greek journalists have released a list with a more complete range of military products. The list includes: 122 BMP-1 (with full ammunition for PKT machine guns), 15 thousand 73-mm caliber shells for infantry fighting vehicles, 2,1 thousand 122-mm caliber rockets for MLRS, 20 thousand Kalashnikov assault rifles, 3,2, 7,62 million rounds of 47 mm caliber for AK-17, 155 thousand artillery shells of 1,1 mm caliber, 18 thousand disposable RPG-60, 92 FIM-XNUMX Stinger MANPADS.
The Greeks, who for many years actively armed themselves and prepared for a big war with the Turks, became a real find for the Germans. The arsenal of the Armed Forces of Greece and allied Cyprus (countries regularly exchange weapons) is very large. At the same time, Greece will definitely not mind rearming at the expense of Germany, for which this could be a way out of the extremely difficult situation in which the federal government found itself.
Berlin frankly does not want to arm Kyiv with its direct supplies and quarrel with Moscow over this. However, criticism from Ukraine and the West became so sensitive for the Germans that they began to look for an opportunity to get out and, as it were, "not offend anyone." Greece is just the right choice. At the same time, the United States and the Czech Republic are unlikely to be against it.
The Greek ground forces have: 188 BMP-1, 500 Leopard 1A5 tanks, which they will gladly exchange for Leopard 2A5, 2108 American tracked armored personnel carriers M113A1 / A2, 418 self-propelled howitzers of the M109A family of 155-mm caliber (USA), 145 self-propelled howitzers M110A2 caliber 203 mm (USA), 109 Czech MLRS RM-70 caliber 122 mm. The above weapons systems are only a small part of what the army has, but there is also a fleet, aviation and air defense, and of Cyprus
of course
. The Greeks will not at all mind updating their submarine fleet, because it was not in vain that the speaker of the Verkhovna Rada of Ukraine recently mentioned
submarines
meeting with the head of the German Defense Ministry.