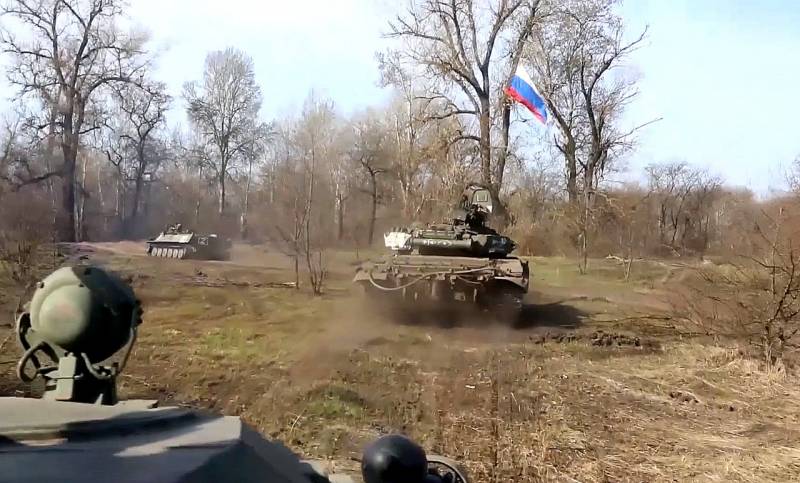 During a special operation in Ukraine, a Russian tank shot at point-blank range a group of Ukrainian servicemen and militants of the National Guard, who did not notice the danger in time, mistaking the combat vehicle for their own or captured.
Russian tankers also noticed the enemy at the last moment, but opened fire in time. Away from the Ukrainian militants was an infantry fighting vehicle - they hit it from a tank of the RF Armed Forces.
UPD:
Later there were very convincing
assumptions
about the fact that the frames show fire on their own. A Ukrainian tank, mistaking the soldiers standing by the road for Russians, fired a shot at them.
Meanwhile, the Ukrainian armed forces, which rely on Western military assistance, will soon have nothing to fight with. So, on the eve of the T-72B tanks transferred by the Czech Republic with great fanfare, they turned out to be absolutely useless in battle, since they were equipped with a faulty fire control system. In addition, they have problems with rangefinders. Repair
equipment
may take several weeks, with the main equipment for this having been destroyed by Russian forces.
Similar problems are observed in many Czech infantry fighting vehicles delivered to help Kiev. They are able to drive and fire, but they cannot hit the target.
However, Western supplies are unlikely to help Kiev turn the tide of the special operation. According to journalist Yuri Podolyaki, the Russians
use
new combat tactics, in which, instead of serious breakthroughs, the Ukrainian armed forces are being crushed with the help of heavy artillery and aircraft.