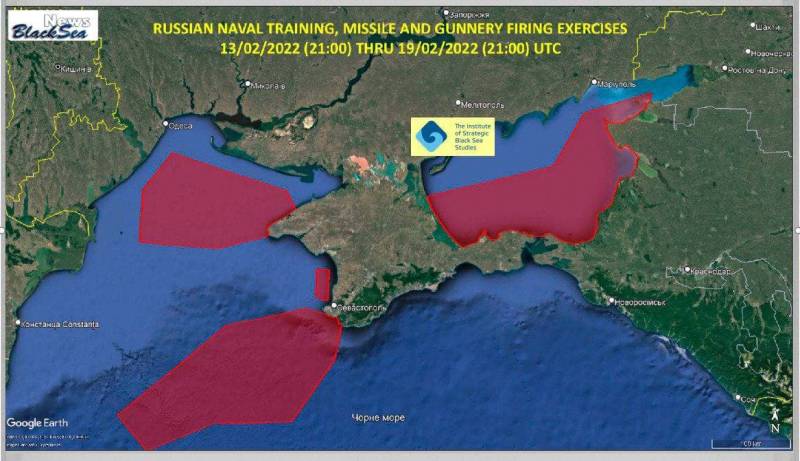 The Russian authorities have issued a NOTAM notice to aviators and sailors that from February 13 to 19, the Russian Navy is closing certain areas of the Azov and Black Seas, as well as the airspace above these waters, for large-scale military exercises with firing.
According to monitoring resources that monitor the maritime and aviation situation, almost all neutral waters adjacent to the maritime borders of Ukraine, from Mariupol to Crimea and further to Odessa and the mouth of the Danube, fell into the zone of maneuvers of the Russian military. It is specified that during the maneuvers artillery and missile weapons will be involved,
including
BRK.
In the region of the Black and Mediterranean Seas already
formed
an impressive joint grouping of the Russian fleet. It should be noted that this is happening against the background of the crisis between Russia and the West and the hysteria that has not stopped since October 2021 about the "inevitable invasion" of the Russian Federation into Ukraine.
Something similar was observed in the region in the second half of April 2021. At that time, the Russian military also closed significant sections of the Black Sea for exercises. After that, hysterics began in the NATO countries and Kiev over the "violation" of freedom of navigation and accusations were made against Moscow about an attempt to "strangle" Ukrainian ports in the Sea of ​​Azov, to which access through the Kerch Strait was blocked.
Something similar can be expected this time. We remind you that back in the second half of January, the Russian Ministry of Defense informed the international community about a series of exercises of the Russian fleet around the planet.