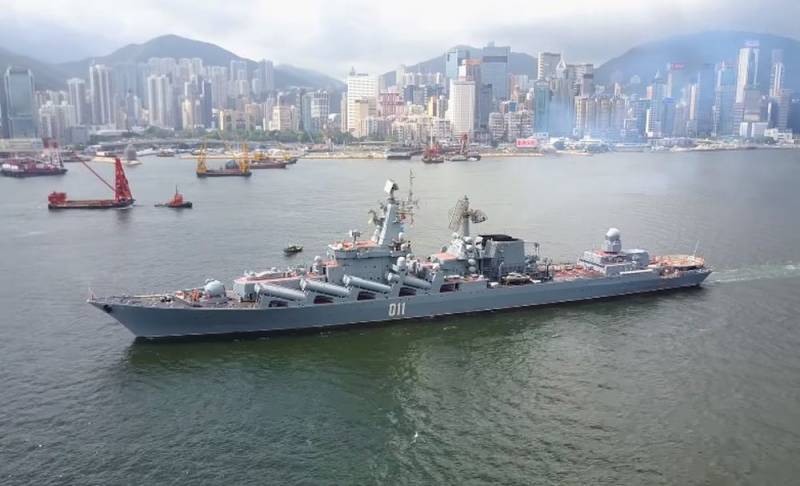 On February 2, a detachment of attack ships of the Pacific Fleet of the Russian Navy, led by the Varyag missile cruiser (Project 1164 Atlant), passed the Suez Canal and entered the eastern part of the Mediterranean Sea. However, this was
expectedly
, since the unification of the sea formations of the Baltic, Northern and Pacific fleets in the above water area was predicted earlier.
In addition to the Varyag, the group of ships of the Pacific Fleet includes: BOD Admiral Tributs (project 1155) and BMT Boris Butoma (comprehensive supply tanker of project 1559-B). It is known that after the joint CHIRU exercises with China and Iran in the Arabian Sea in the second half of January, Russian ships were supposed to go on a friendly visit to the Seychelles, which was announced back in November 2021.
The inhabitants of this island state value friendship with Russia. On December 20, 2021, a solemn ceremony was held there to transfer the model of the legendary armored cruiser Varyag of the Russian Imperial Navy to the Seychelles National Historical Museum. On this day 105 years ago, this warship entered the port of Victoria in the process of moving from Vladivostok to Romanov-on-Murman (now Murmansk). However, neither the media nor officials have so far reported whether the Varyag missile cruiser of the Pacific Fleet of the Russian Navy visited the Seychelles, where it is expected. The embassy of the Russian Federation in this country would definitely react.
The visit to the fabulous Seychelles, which was initially so diligently told to us by the departmental television and which, presumably, never took place (we may be mistaken, of course, but the photo of this visit has not yet come across), was for this detachment only a cover for its main missions
- the publication of the Telegram channel "Operational Line" says.
At the same time, in the first half of January, the family of President of Ukraine Volodymyr Zelensky rested in an elite hotel in the Seychelles. The Ukrainian media are still discussing the new school menu, invented by the Ukrainian first lady under the impression of the resort and its tropical delights. However, stubborn little Ukrainians still prefer "grandmother's puree and cutlets" than "oysters and crabs" from Elena Zelenskaya.
We remind you that some units of ships of the Baltic and Northern fleets have already
are located
in the Mediterranean Sea.