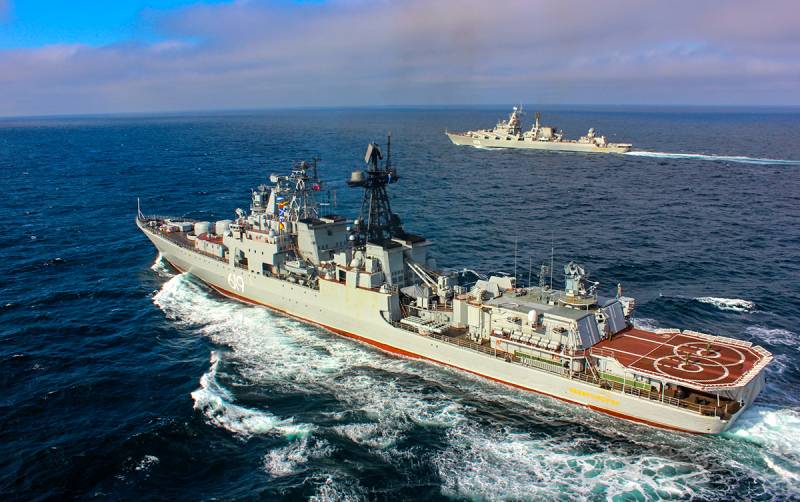 Monitoring resources continue to monitor the movement of the Russian Navy in the oceans. After
messages
other interesting information appeared about the direction of six large landing craft from the Baltic and Northern Fleets to the Black Sea.
On January 18, it became known that a detachment of ships of the Pacific Fleet of the Russian Navy, consisting of the missile cruiser "Varyag", the large anti-submarine ship "Admiral Tributs" and the large sea tanker "Boris Butoma" arrived in the port of Chakhbahar (Iran). A joint CHIRU exercise is to take place in this region, in which the ships of Russia, China and Iran will take part. After the end of the maneuvers, the Russians will go on a visit to the Seychelles, which was known back in November 2021.
On January 19, the Operative Line Telegram channel became aware that Russia would soon send to the Mediterranean and further to the Black Sea a detachment of ships of the Northern Fleet of the Russian Navy in the "strike version", as part of the missile cruiser Marshal Ustinov, the frigate Admiral of the Kasatonov fleet", the large anti-submarine ship "Vice-Admiral Kulakov" and the medium sea tanker "Vyazma".
Thus, two groups of Navy ships will simultaneously be in the Middle East region, the unification of which in the Mediterranean suggests itself. Given the high likelihood of a conflict in Ukraine, Russia will be able to assemble a large squadron of ships from the Pacific and Northern fleets in the Black Sea.