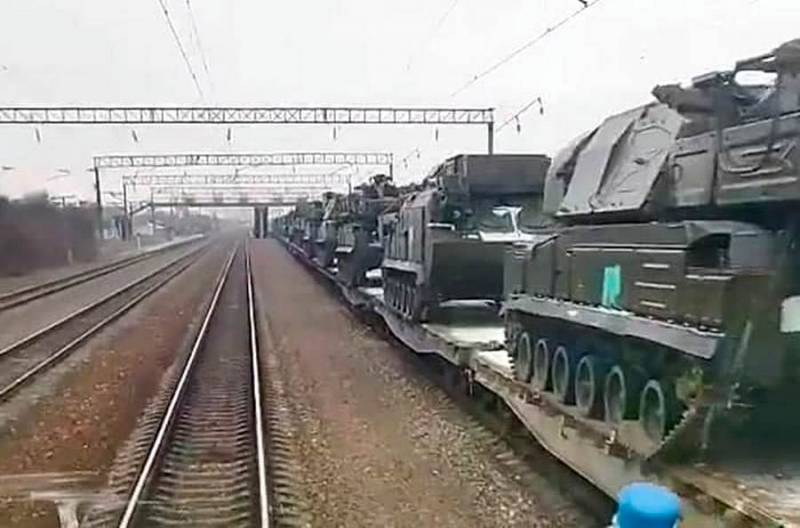 An echelon with medium-range Buk self-propelled anti-aircraft missile systems arrived at the military field camp of the RF Armed Forces near the village of Maslovka near Voronezh. This can be judged by the videos that appeared on the Web, writes The Drive magazine.
It should be noted that in the frames of the first video, filmed by an eyewitness from the passenger compartment of the car, elements of the aforementioned air defense systems were recorded, as well as a large accumulation of other weapons (self-propelled guns "Msta-S", T-80U tanks and other
technique
).
The second video was filmed from a locomotive cabin at a train station. In particular, the following were shown: a self-propelled firing unit (SOU) 9A310, a launch-loading unit (ROM) 9A39 and KrAZ transport vehicles for anti-aircraft guided missiles (SAM) 9M38.
This is not unusual. Moreover, it is absolutely logical and reasonable.
Recently Russian S-400 long-range air defense systems
появились
near the village of Ternovoye near Voronezh. In addition, one and a half dozen Su-34 fighter-bombers of the 47th Bomber Aviation Regiment (military unit 45117) of the 105th Mixed Aviation Division of the 6th Red Banner Army of the Air Force and Air Defense of the Aerospace Forces of the RF Armed Forces
relocated
to the modernized airfield "Baltimore" in Voronezh.
All this needs to be covered with high quality, and the Buk air defense system is perfect for this. Therefore, a separate anti-aircraft missile brigade could be sent to the Voronezh region to improve the air defense system. It is clearly seen in the videos presented that there are much more equipment than are included in the anti-aircraft missile division.