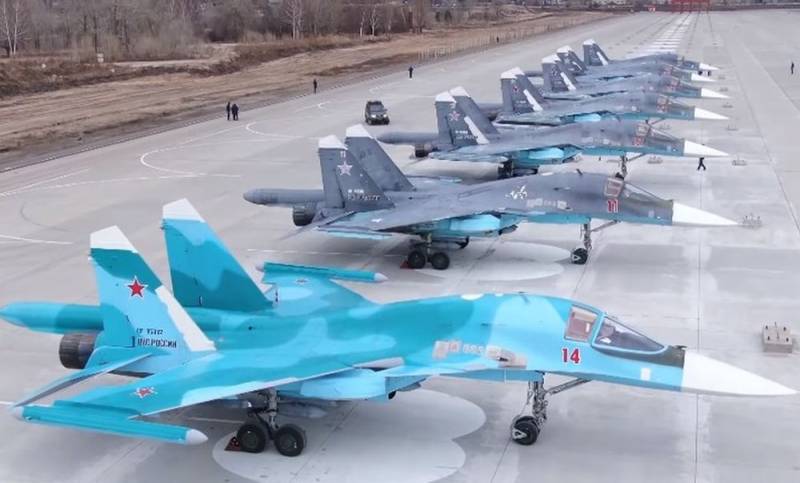 On November 23, the opening ceremony was held at the Baltimore airfield in Voronezh after a large-scale reconstruction that lasted 8 years. A dozen Su-34 fighter-bombers of the 47th Bomber Aviation Regiment (military unit 45117) of the 105th Mixed Aviation Division of the 6th Red Banner Army of the Air Force and Air Defense of the Aerospace Forces of the RF Armed Forces were redeployed to this military facility.
In the course of modernization, the airfield, located just 170 km from the Ukrainian border, received an updated runway (runway), taxiways and the latest equipment, including radio and meteorological equipment. The length of the concrete runway is about 4 km, and the width is 60 m, with a coating thickness of 60 cm. It has been assigned the highest class and can now be used by all types of aircraft. In 2022, group parking areas for aircraft will be equipped with metal frame canopies, so that personnel will be able to service aircraft in any weather.
The reconstruction began in December 2013, and at this time the aircraft were relocated to the Buturlinovka military airfield in the Voronezh region, which is even closer to the Ukrainian border. It was planned to complete the work at the Baltimore airfield in a couple of years, but the dates were postponed several times.
The planes relocated to the Baltimore airfield are only a part of two squadrons (24-25 units in total) Su-34 with numbers: No. 01, No. 02, No. 03, No. 04, No. 05, No. 06, No. 07, No. 08, No. 09, No. 10, No. 11, No. 12, No. 14, No. 20, No. 21, No. 22, No. 23, No. 24, No. 25, No. 26, No. 27, No. 29, No. 30, No. 31, No. 32 ... At the same time, there is practically no doubt that Kiev and the West will again try to accuse Russia of "pulling" forces and means towards Ukraine.