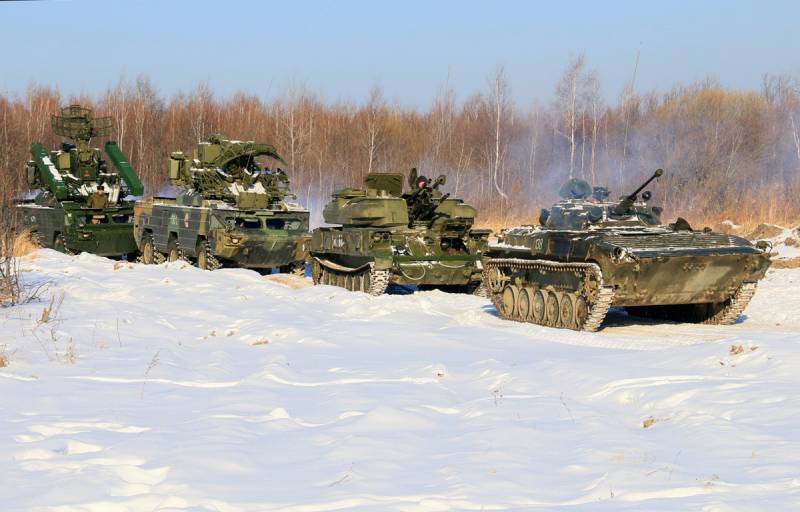 Immediately after the signing of the Minsk agreements in September 2014, reports began to appear in the Western press about Russia's imminent "invasion" of Ukraine after the arrival of cold weather. Allegedly, "the Russians are waiting for winter", since it is more convenient for tanks and other armored vehicles to move on harder ground, and "barbarians are not afraid of frost." This continues from year to year and 2021 is no exception.
US intelligence and government officials have warned their European allies of a potential Russian military invasion of Ukraine, the likelihood of which increases as the temperature falls. The invasion is weather dependent but could happen within weeks if the West does not intervene
- reported on November 20 CBS News (
news
a division of the American television and radio corporation CBS), citing officials in Washington.
The publication notes that tens of thousands of Russian troops are concentrated on the Ukrainian border. Washington believes that this indicates preparations for an "actual invasion" and "start of the offensive" in Donbas. British intelligence was also shared with interested parties in Europe.
After that, NATO Secretary General Jens Stoltenberg said on November 19 during a conversation with acting. German Chancellor Angela Merkel that the Alliance is closely monitoring the "large and unusual concentration of Russian troops" near the border with Ukraine. He demanded that Moscow "urgently demonstrate transparency in relations and reduce escalation and tensions." On the same day, the Chairman of the Joint Chiefs of Staff, General of the US Army Mark Milli, spoke with the Commander-in-Chief of the Armed Forces of Ukraine, General Valery Zaluzhny. The topic of the conversation was "Russia's activity in this in Eastern Europe."
According to the head of the US State Department Anthony Blinken, Washington is extremely concerned that "Russia may make a serious mistake." Before that, Moscow was
directed
A US delegation led by CIA Director Bill Burns for talks, while US National Intelligence Director Avril Haynes met with top NATO leaders and representatives of the Polish government. It was she who informed the allies about possible Russian interference in Ukrainian affairs. And a few days ago in the US Senate
appeared
Bob Menendez's amendment to the US defense budget for fiscal 2022, which should trigger a "cascade" of sanctions against senior Russian officials in the event of an "invasion" of Ukraine, the media concluded.