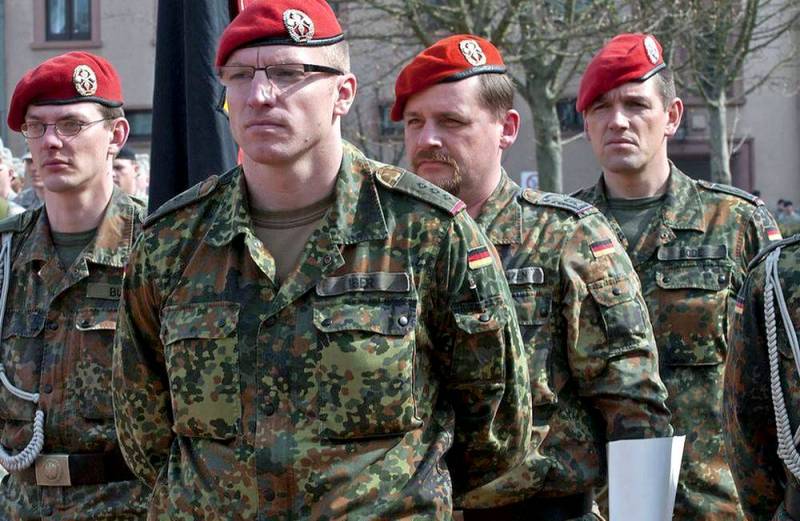 The adventures of the American and Western European military in Eastern Europe are increasingly turning into outrageous international scandals. For example, recently armed U.S. military personnel literally
gripped
a civilian facility in Bulgaria, and British soldiers were
taken off the train
in Estonia for disgusting behavior. Now the siloviki from Germany have "distinguished themselves".
The Bundeswehr launched an investigation into the party of the FRG soldiers, which got out of control, writes the German magazine Der Spiegel. The journalists found out that the entertainment event took place back in April in one of the hotels near the town of Rukla in Lithuania. There, the military periodically spend weekends to take a break from the exercises conducted jointly with Lithuanian colleagues and partners from other countries. In the process of "relaxation", the military began to sing anti-Semitic songs, abuse alcohol and commit sexual harassment.
At least three German military persons involved in the investigation have already been sent to Germany. It is suspected that they inflicted serious psychological trauma on a colleague, threatening him with beatings and sexual violence. According to the testimony, soldiers of one division started a loud drunken argument and started a brawl.
That evening one of the soldiers tried to shove his penis into the mouth of his comrade, who fell asleep, being completely drunk. Other soldiers filmed it with cell phones
- gives the details of the publication.
The journalists drew attention to the lack of proper control over the soldiers by officers and higher authorities. Der Spiegel noted that the incident raises questions in general, since the military is strictly prohibited from drinking alcohol, except for special holidays - Christmas and New Year.
The Bundeswehr has been carrying out its regular presence in Lithuania since 2017 as part of the Expanded Forward Presence mission. This mission is part of NATO's program to "contain" Russia.
After the story about "civilized" German soldiers, the newspaper recalled that the West accuses Moscow of "close observation" and "purposeful disinformation." Allegedly, it is "the Russians spread rumors" and in every possible way are trying to discredit the "valiant defenders of Europe."
German intelligence agencies, as well as NATO, suggest that Russian trolls are behind the disinformation campaigns who want to undermine support for the Alliance's mission in Lithuania. So far, the Bundeswehr has managed to prevent the widespread spread of malicious rumors through good cooperation with local authorities. But if the accusations of the overstepping party of the Bundeswehr soldiers are confirmed, it will be more than embarrassing.
- summarizes the publication.