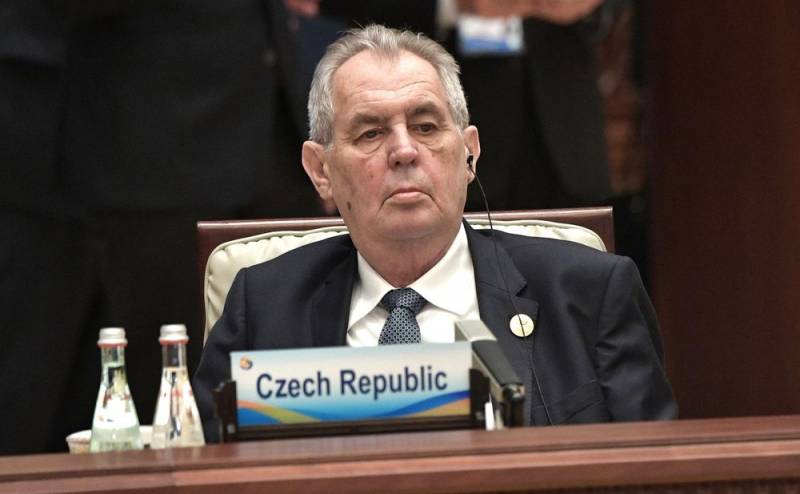 On April 25, 2021, Czech President Milos Zeman, in an emergency address to the nation, said that there was no confirmation in the reports of the Security and Information Service (BIS) that "Russian agents" were at the ammunition depot in the village of Vrbetice in 2014. The speech of the head of state was broadcast by several Czech TV channels.
Zeman noted that after the explosions in Vrbetica, the counterintelligence service has not even once in six years, in any of its reports, including closed ones, even hinted at the possible involvement of Russia in the incident.
I emphasize that there is no evidence and evidence that these two agents were in Vrbetica. When the premises of the second warehouse were examined, immediately before the explosion occurred, no explosive device was found there.
- he specified.
Zeman noted that two versions are being considered. One by one, the explosions were caused by careless handling of ammunition. On the other hand, agents of foreign special services are to blame for the tragedy. He urged to calmly wait for the results of the investigation.
I, as the Commander-in-Chief of the Czech Armed Forces, to which the police also belong, wish that maximum forces were directed to this investigation, and when it is completed, the Czech citizens were fully informed and nothing is classified
- he stressed.
Zeman did not rule out that what is happening around the incident at the warehouses in Vrbetica is a game of the special services, which may have unpleasant consequences for the Czech Republic. He added that a connection was established between a businessman from Bulgaria, Emilian Gebrev, with the explosions that claimed two lives. He summed up that there are a large number of white spots in this matter, which are being eliminated by specialists whom the head of state fully trusts.
Thus, Prague admitted Moscow's innocence in the explosions at the arms depots. Before that, the American newspaper The New York Times
has established
that the ammunition company EMCO, owned by Gebrev, who was engaged in the export of military goods to Ukraine, stored ammunition in the warehouses.
We remind you that on April 17, the Czech authorities arranged
demarche
, publicly blaming Russia for the incident 7 years ago. After that, tensions increased in the already difficult Russian-Czech relations.