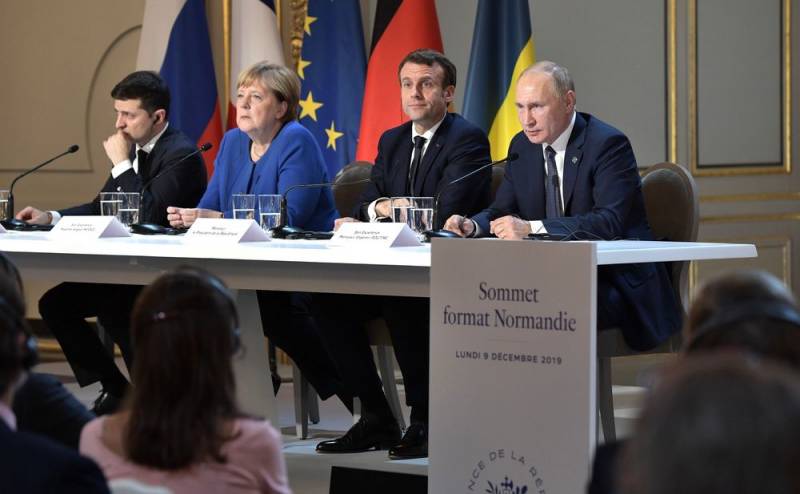 On April 23, 2021, the Deputy Head of the Presidential Administration of the Russian Federation Dmitry Kozak (in charge of the post-Soviet space) suggested that Paris, Berlin and Kiev hold an expanded meeting in Donbass, at the level of advisers to the Normandy Four, with the participation of representatives of the LPR and DPR. Taking into account the situation in the region, Moscow wanted to hold this event as soon as possible, no later than April 27.
I confirm my proposal on the possibility of holding such negotiations directly in the conflict zone with the participation of representatives of Ukraine and ORDLO
- said the Russian.
The Russian functionary clarified that he hopes for an effective discussion of pressing issues, ranging from the ceasefire regime to the problems of the implementation of the Minsk agreements. Kozak drew attention to the complexities and peculiarities of the negotiation process.
According to him, the Ukrainian side communicates in the TCG on the settlement in Donbass with representatives of Lugansk and Donetsk, but at the same time it does not stop talking about the lack of contacts. He explained that the negotiators from Kiev, with the connivance of France and Germany, "are doing anything" except the settlement process.
On the same day, Kiev's reaction to the proposal made by Moscow became known - he was against it. Mikhail Podolyak, adviser to the head of the Office of the President of Ukraine, said that the Russian initiative is not constructive and could harm direct communication between the presidents of the Russian Federation and Ukraine.
If you try to implement it (proposal - ed.), It can simply blur the idea of ​​negotiations as such. This would make sense of the existing formats, their developments. And the addition to the negotiations of certain persons who do not decide anything on their own, would make such negotiations unconstructive already at the start.
- says the Ukrainian.
In his opinion, the proposal made by Moscow makes sense to consider and work out at the TCG level in Minsk. At the same time, the proposal previously
made
Volodymyr Zelensky on holding a personal meeting with Vladimir Putin on the territory of Donbass controlled by Kiev, will help relieve tensions and is "as constructive as possible." He is confident that a dialogue of this level "will interact with all other lines of negotiations" and "will activate the negotiation process itself, making it really meaningful."
We remind you that on April 22, the Russian leader
Advised
Zelenskiy to talk about Donbass directly with the leaders of the LPR and DPR, and only after that involve third parties for communication. As for the normalization of bilateral relations between Russia and Ukraine, Putin is ready to receive the Ukrainian president in Moscow at any time convenient for him.