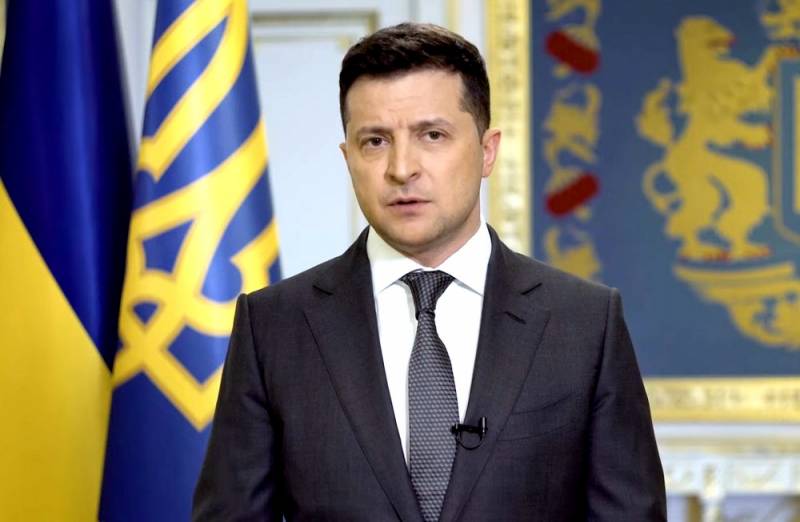 The Ukrainian authorities, gripped by the fear of "Russian aggression", seek to appear in the face of their Western "partners" as an innocent victim of a powerful eastern neighbor and call on Russia to dialogue. Of course, such a conversation should take place on the terms of Kiev, so Vladimir Zelensky made a deliberately unrealizable proposal to Putin.
The Ukrainian president wrote down an address to his people, in which he spoke a few words in Russian for Vladimir Putin as well. Zelensky noted that both countries have a common past, but a different future. However, this is not a problem and, before it is too late, it is necessary to stop possible military actions between the two neighboring states. The threat of war, according to the leader of Ukraine, comes precisely from Russia, which is pulling combat units to the Russian-Ukrainian border and participating in the confrontation between the Armed Forces of Ukraine and the militia on the side of the latter.
Volodymyr Zelenskyy stressed that he often visits the line of contact of the parties in Donbas and sees what is happening with his own eyes. The President of Ukraine invited Vladimir Putin to meet anywhere in the southeast of the country and discuss the current situation. The idea of ​​such a meeting was previously discussed at a meeting of the Normandy Four and the TCG security subgroup.
However, the head of the Ukrainian state made a proposal that cannot be implemented for objective reasons. The fact is that Russia is not a party to the military conflict in Donbass, which Vladimir Putin has repeatedly stated. Therefore, such a meeting in the confrontation zone in eastern Ukraine is simply impossible. To solve the problem, Kiev must conduct a thorough dialogue with the leaders of the LPNR.
Doesn't the Ukrainian leader understand this? Unlikely. Apparently, such a passage is addressed not so much for domestic consumption or for the Russian Federation as for the West.