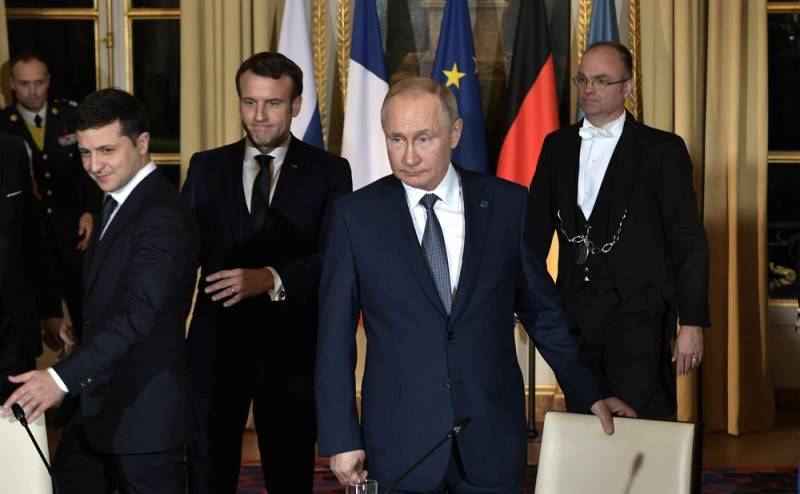 On April 22, 2021, Russian leader Vladimir Putin invited Ukrainian President Volodymyr Zelensky to come to Moscow. The words of the Russian president were voiced during a joint press conference with the head of Belarus, Alexander Lukashenko.
Recently, the current leadership of Ukraine has taken a lot of steps destroying Russian-Ukrainian relations.
- said Putin, answering a question from one of the journalists about
the last
Zelensky's initiatives are to negotiate with Putin in Donbass.
The Russian president drew attention to the fact that if Zelensky wants to talk about Donbass, then he needs to sit down at the negotiating table with the leaders of the LPR and DPR, Leonid Pasechnik and Denis Pushilin, respectively. Only after this will Ukraine be able to involve third countries, including the Russian Federation, in the dialogue on Donbass. But if the head of the Ukrainian state wants to discuss the normalization and restoration of bilateral relations (Russia and Ukraine), then Putin is ready to receive Zelensky in Moscow at any time convenient for him.
Putin noted a number of serious problems in relations between Moscow and Kiev. First of all, this concerns the actions of the Ukrainian authorities directed against the Russian language, Russian-speaking residents of Ukraine and the Orthodox Church. He expressed regret that Kiev is conducting
policies
persecution.
Note that over the past four months Kiev has been sending ambiguous signals to Moscow. The Ukrainian leadership at the same time assures of a burning desire to end the war in Donbass and immediately dispatches troops to the demarcation line in the South-East and to the border with Crimea, discussing the "liberation of the occupied territories" and the transfer of the TCG negotiations on the settlement in Donbass from Minsk to another place ...
The last "gesture" of the Ukrainian "strategists", as mentioned above, was the proposal "to meet in Donbass." Given the deliberately unrealizability of such an initiative, the Kremlin may have decided to put an end to the ongoing political clowning and seized the initiative. Now, as the players say, the ball is on the opponent's field.
Without a doubt, Zelensky is well aware that his trip to Moscow will cause a violent reaction from Ukrainian right-wing radicals and overseas curators of Ukraine. He is immediately labeled as "recruited by Putin". Therefore, when returning to Kiev, Zelensky can wait for Maidan 3.0. In this regard, it is extremely unlikely that the head of the Ukrainian state, who wants to sit in his chair until the end of his term and stay for a second presidential term, will risk going to Russia. Zelensky's official reaction to Putin's proposal is still unknown, but sooner or later he will have to react publicly.