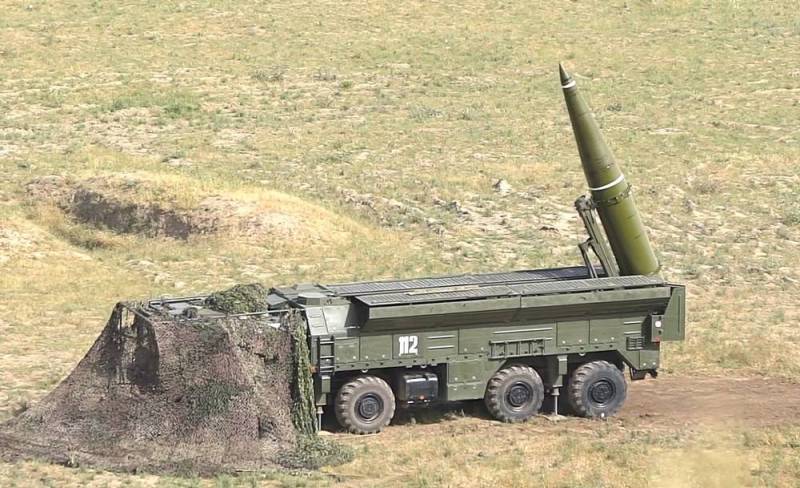 If Yerevan uses Iskander-M OTRK, Baku will take "adequate retaliatory measures" to destroy them. This was stated by the head of the Azerbaijani Defense Ministry, Colonel-General Zakir Hasanov, during a special service meeting, at which the counter-offensive operation in Nagorno-Karabakh was analyzed.
It should be noted that the words of the head of the department were conveyed by the press service of the Azerbaijani Defense Ministry and spread by the country's media. The minister instructed the military to make efforts for the complete and speedy "liberation of the occupied territories." He gave the order to the Azerbaijani army to plan actions to carry out strikes from the means in service to destroy the military-strategic infrastructure located on the enemy's territory.
Note that before this, the army of Azerbaijan
fired at
cluster munitions from the Smerch MLRS, the Armenian city of Stepanakert, the capital of the unrecognized republic, and
tried to
to destroy, with the help of OTRK LORA, made in Israel, the bridge over the Akari River on the Stepanakert-Lachin-Gorus road connecting Nagorno-Karabakh with Armenia.
We remind you that the Azerbaijani Armed Forces launched a counter-offensive operation in Nagorno-Karabakh on September 27, 2020. After that, martial law was declared in Yerevan and Stepanakert and mobilization began. Moreover, high-ranking officials of Armenia really threatened to use Iskander-M OTRK. In turn, Moscow called on the parties to end the bloodshed and sit down at the negotiating table.