Ukraine continues to amaze the Orthodox world. After all, everyone remembers how on December 15, 2018, at the "Unification Council" in Kiev, a solemn merger took place in a single "ecstasy" of two non-canonical churches (the UOC-KP and UAOC). As a result, a "new church" was formed - the Orthodox Church of Ukraine (PCU), the head of which was elected "Metropolitan" Epiphanius (Dumenko).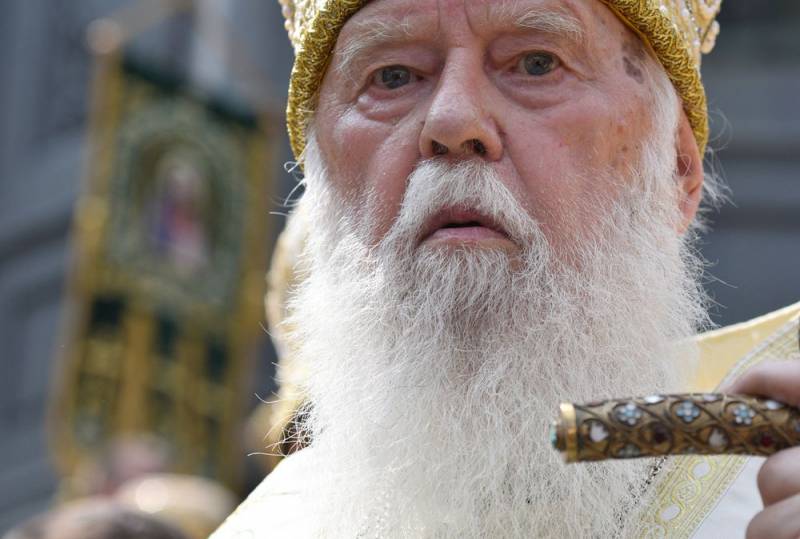 Thus, after the unification of the mentioned churches, they ceased to exist and are now in the bosom of one PCU. And now, a month after this momentous event, it turned out that not everything is as simple as it seems at first glance, let alone logic.
So, the head of the former UOC-KP Filaret (Denisenko) began to call himself "the patriarch of Kiev and all Russia-Ukraine." This is evidenced by order No. 16 of January 16.01.2019, XNUMX, the UOC-KP signed by Filaret himself. That is, he so called himself and ordered how to "correctly" mention himself and Epiphanius in prayers.
Photo of this document
published
Andrey Kuraev's blog is a clear proof that there is no bottom in Ukrainian patriotism.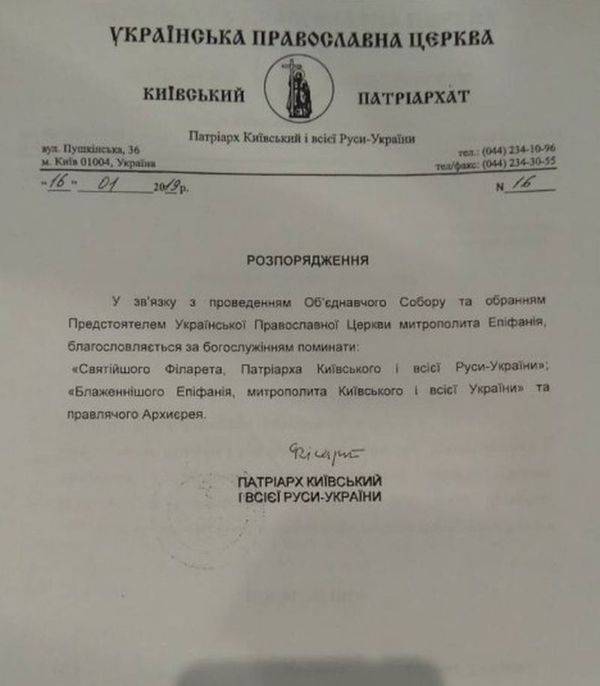 Judge for yourself. According to the order of Filaret, priests must now commemorate during the service of "His Holiness Filaret, Patriarch of Kiev and All Russia-Ukraine" and "His Beatitude Epiphanius, Metropolitan of Kiev and All Ukraine" and the ruling bishop. That is, Filaret, being already officially nobody, not only proclaimed himself the religious head of Russia, but called the whole of Russia Ukraine, he even made his immediate superior, the head of the "new church" Epiphanius lower in status.
This is really an unrealistically sky-high level of pride and pride. Well, and about how official Kiev headed for the destruction of the canonical UKP (Moscow Patriarchate), we
Reported
earlier.
It should be recalled that the Russian Orthodox Church (ROC) deprived Filaret of his rank in 1992, after he announced the creation of the non-canonical UOC-KP. Five years later, he was anathematized like a heretic and schismatic.