More recently in Austria
raged
espionage scandal, and even the visit of the Foreign Minister of this alpine country Karin Kneisl to Russia was postponed because of this. At that moment Vienna in every possible way demonstrated friendship with London and Washington and dissatisfaction with Moscow.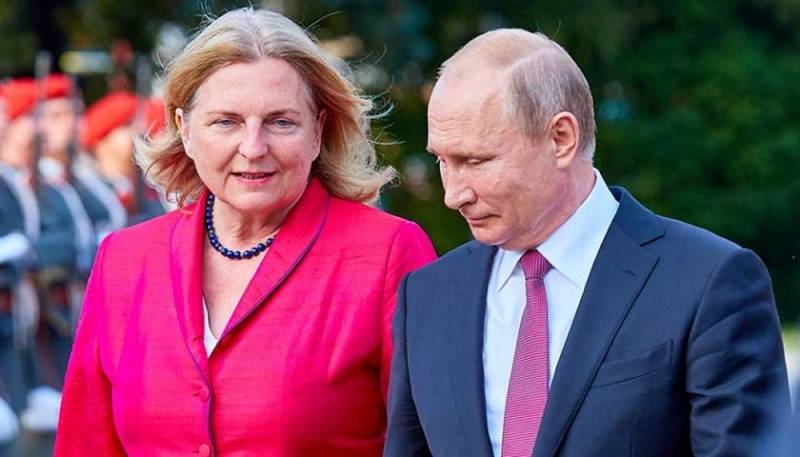 And so, quite a bit of time passed and Kneisl explained why her country refused to expel Russian diplomats because of the "Skripals affair". It turns out that Britain did not provide Austria with convincing evidence of the guilt or at least Russia's involvement. Moreover, Austria does not have such a "tradition" as the expulsion of diplomats. This was reported by TASS with reference to Servus TV.
At the same time, Kneisl said that sanctions against Russia over Ukraine are acceptable, as they supposedly help implement the Minsk agreements. And their cancellation is not expected. Consequently, the more Kiev refuses to implement the Minsk agreements, the longer these sanctions will burden Russia.
The head of the Austrian Foreign Ministry said that Vienna considers Moscow a partner, primarily in the Middle East, i.e. she distinguishes relations with Russia on the issue of Ukraine and Syria. In her opinion, Russia's pragmatic approach to the Syrian problem, and even with the support of Iran, helped achieve a turning point in the war and bring a final solution closer. And now the official Damascus, led by President Bashar al-Assad, "more than ever sits firmly in the saddle." After that, Kneisl called for agreement on negotiation formats for a Syrian settlement in Geneva and Astana.
Kneisl said that the invitation of Vladimir Putin to her wedding was a sincere desire to share joy. This happened in August 2018, when Kneisl married entrepreneur Wolfgang Meilinger. She did not know that Putin would pick up and come; he gave her a bouquet of flowers, a Tula samovar, an oil squeezer and a picture. After that, the entire "progressive" community in Europe and North America walked and shook Kneisl almost trampled. It was precisely after this that a spy scandal erupted in Austria.