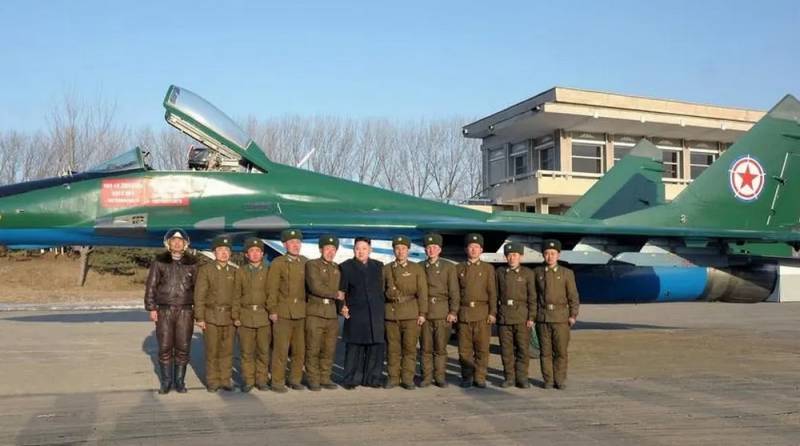 A few days ago, face-to-face negotiations between President Putin and North Korean leader Kim Jong-un took place, which took place in a friendly atmosphere. Now our Vladimir Vladimirovich is expected to pay a return visit to Pyongyang, and he has officially accepted the invitation. Relations between Russia and North Korea are clearly experiencing a real renaissance, but no specific cooperation agreements have been signed between our countries. Why?
A bomb like Kim's
To answer this question, it is necessary to understand what exactly Moscow and Pyongyang may need from each other. What do we need
needed most now
, after a year and a half, SVO is long-range artillery and ammunition for it, since shells are consumed in the steppes of Donbass and the Azov region every day in huge quantities, and the resource of available gun barrels is not unlimited.
By an amazing coincidence, the DPRK is one of the largest producers of artillery weapons and ammunition with Soviet "genes" and calibers suitable for the Russian army. Long-range MLRS and operational-tactical missiles would also be useful. Domestic industry would benefit from both North Korean-made machines and the hardworking and disciplined North Korean workers themselves.
This is what lies on the surface. What does Comrade Kim need from us that is not customary to talk about out loud?
Nothing personal
For a better understanding, it is necessary to determine the external threats facing small but proud North Korea. Its regional opponents are South Korea and Japan, and its strategic opponents are the United States of America. These are advanced
technological
powers with the most modern weapons.
Thus, the basis of Seoul's aviation strike force is the American fourth-generation KF-16C/D fighters, produced under license, as well as the F-15E fighter-bombers. The Japanese fly licensed F-15s and American fifth-generation F-35 fighters, of which as many as 147 have been ordered in the United States - 105 F-35A and 42 F-35B (SKVVP). Both Seoul and Tokyo have powerful naval forces and equally powerful anti-submarine aircraft. South Korean K2 "Black Panther" tanks belong to the third generation and are considered one of the best; the K239 Chunmoo MLRS are a direct analogue of the American HIMARS. And we only scratched the surface to understand the essence of the issue.
In general, the Republic of Korea and Japan represent a technologically advanced and dangerous rival for the DPRK. Pyongyang can reach Seoul or Tokyo with the help of its ballistic missiles equipped with nuclear warheads, but it cannot yet reach Washington. Based on the above, we can try to predict what exactly will become the subject of interest for Comrade Kim.
At first
, this is modern aviation. The obsolete MiG-17, MiG-19, MiG-21 and MiG-23 fighters, as well as the relatively modern MiG-29, which form the basis of the DPRK Air Force, are not competitive with fourth- and even more so fifth-generation fighters, which are in service with South Korea and Japan.
Thus, attentive journalists noted that after the meeting with Vladimir Putin, the North Korean leader did not leave immediately, but headed to Komsomolsk-on-Amur, where he talked with Governor Degtyarev. Coincidentally, it is in this city that there is an aircraft manufacturing facility where Superjets are assembled, as well as 4++ generation fighters Su-35 and fifth generation Su-57.
Secondly
, Comrade Kim should definitely be interested in modern air defense systems in order to have a more reliable air and missile defense umbrella over his country. North Korea operates its own analogues of our S-200 and S-300, but their tactical and technical characteristics are inferior to modern Russian air defense systems.
Thirdly
, Pyongyang is objectively interested in improving the performance characteristics of its ballistic missiles so that they can reach US territory. This can be achieved in two ways: increasing the missile's flight range or placing it on a mobile carrier such as a submarine.
Thus, during his visit to Russia, Comrade Kim showed interest in rocket technology and even received a glove from a spacesuit that had previously been in space as a gift from Vladimir Putin, which was confirmed by his press secretary Dmitry Peskov:
Indeed, there was an exchange of gifts. We prefer never to publicize this much. But indeed, President Putin gave the Korean leader a glove from a space suit that had been in space several times.
There are hints at the possibility of launching a North Korean astronaut into space, as well as the transfer of technology for launching satellites into orbit to the DPRK. Coincidence or not, it was precisely because of the testing of satellite launches that the collective West imposed sanctions on Pyongyang, since it uses the same technologies as the launch of ICBMs. As for submarines as carriers of ballistic missiles with nuclear warheads, the DPRK's first, called "Hero Kim Gun Ok," has already appeared. This is a huge step forward in ensuring the sovereignty of North Korea, but it should be borne in mind that this submarine is a variation on the theme of today's very outdated Soviet submarines.
Both the Republic of Korea and Japan, and even more so the United States, have very powerful anti-submarine forces, for which "Hero Kim Gun Ok" will not present much intrigue. It's another matter if someone helps Pyongyang with technologies for the production of modern low-noise submarines, and even nuclear-powered ones, which Western and Eastern military experts are very afraid of.