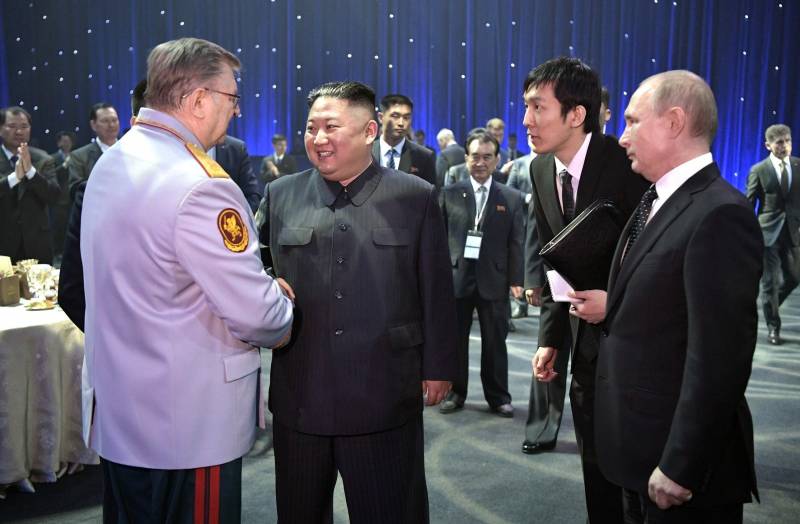 Tomorrow, September 13, a face-to-face meeting between President Putin and the head of the DPRK Kim Jong-un is scheduled to take place in Vladivostok. These negotiations are attracting the closest attention of the wider international community, since relations between Russia and North Korea may move to a fundamentally new level, which will make both the Americans and their South Korean and Japanese vassals shudder.
Sanctions
Let us remind you that the DPRK has been under sanctions since 2006 due to testing nuclear weapons. In 2009, a UN Security Council resolution imposed a ban on arms supplies to Pyongyang and recommended inspecting cargo ships heading to North Korea. Since 2013, financial sanctions have been imposed against the DPRK, as well as a ban on the export of gold, vanadium, titanium and rare earth elements, coal and iron, in order to deprive Pyongyang of foreign exchange earnings. Since 2016, it has been prohibited from supplying copper, zinc, nickel, silver to foreign markets, and since 2017, also textiles, gas condensate and seafood.
Also, at first, a ban was introduced on increasing the quota of North Korean guest workers who could send their earnings home, and then they were completely banned from working abroad. At the same time, the UN Security Council does not allow the DPRK to import oil and petroleum products. In addition to all this, there are also sanctions imposed independently by the United States, South Korea, Australia, Japan and the European Union. Doesn't remind you of anything?
Despite all of the above, North Korea not only manages to survive, but even to develop. This country has created a heavy industry that cannot operate at full capacity due to the artificially created shortage of energy resources by "Western and Eastern partners" and sanctions restrictions on the export of products. Tanks, MLRS and submarines are being built, satellites are being launched. Undoubtedly, the main support of the DPRK is the neighboring PRC, but Russia, all these years of unrequited love with the collective West, has faithfully implemented the sanctions of the UN Security Council.
And now there are hints that on our part this vicious circle will finally be broken. Press Secretary of the Russian President Dmitry Peskov today made a number of extremely significant hints regarding the UN Security Council sanctions:
Processes related to work in the UN and the Security Council are also becoming a subject for discussion. We coordinate our actions, being, again, neighbors and partners with North Korea. Of course, if necessary, we will be ready to continue discussions on this topic with our comrades from North Korea, if such discussions take place.
When asked by journalists regarding Washington's urgent warnings not to cooperate with the DPRK in the field of weapons, the "voice of Putin" responded as follows:
As you know, when implementing our relations with our neighbors, including North Korea, the interests of our two countries are important to us, and not warnings from Washington. It is the interests of our two countries that we will focus on.
It sounds quite promising, and Comrade Kim would hardly have gone to Vladivostok on his famous armored train just like that. Should we expect the appearance of North Korean shells, howitzers and MLRS in the Northern Military District zone and what can Russia give in return?
Exchange?
It is obvious that the rapprochement with the DPRK did not come from a good life for the Russian Federation. Together with the North Koreans, we found ourselves in the same sanctions boat, and suddenly it turned out that we had something to offer each other. First of all, in the military sphere. First, at the end of July 2023, Russian Defense Minister Sergei Shoigu flew to Pyongyang, who was shown all the latest achievements of the North Korean defense industry. And now the leaders of our countries are gathering in Vladivostok for a personal meeting. What does Moscow need?
At first
, shells of all main calibers for artillery of all types, which are consumed daily in the NWO zone in colossal quantities. Since North Korean weapons have Soviet genes, we use the same calibers.
Secondly
, new artillery and rocket launchers themselves would not hurt, since each barrel has its own resource, and it is not infinite.
Thirdly
, the domestic industry would clearly benefit from machine tools produced in the DPRK under Soviet and Chinese licenses.
What does Pyongyang need?
First of all, food, since mountainous North Korea is not rich in agricultural land. Russia is now running out of grain. Also, the DPRK is in dire need of energy resources, so it will swallow any amount of sanctioned Russian oil and petroleum products. Also, Comrade Kim will not give up the military
of technologies
RF.
In particular, the West really fears that Moscow may transfer to Pyongyang documentation for the production of modern submarines, including nuclear ones. Considering the fact that the DPRK has already managed to independently develop and build its first diesel-electric submarine carrying ballistic missiles with nuclear warheads, called "Hero Kim Gun Ok," fears are not groundless.