December 1, 2018, during the transfer of the next batch of military to the state concern "Ukroboronprom"
equipment
for units and subdivisions of the Armed Forces of Ukraine, the President of Ukraine Petro Poroshenko made another unfriendly statement to Russia. He accused Moscow of testing the world order for strength: will the world agree to turning the Sea of ​​Azov and the Black Sea into a "Russian lake"?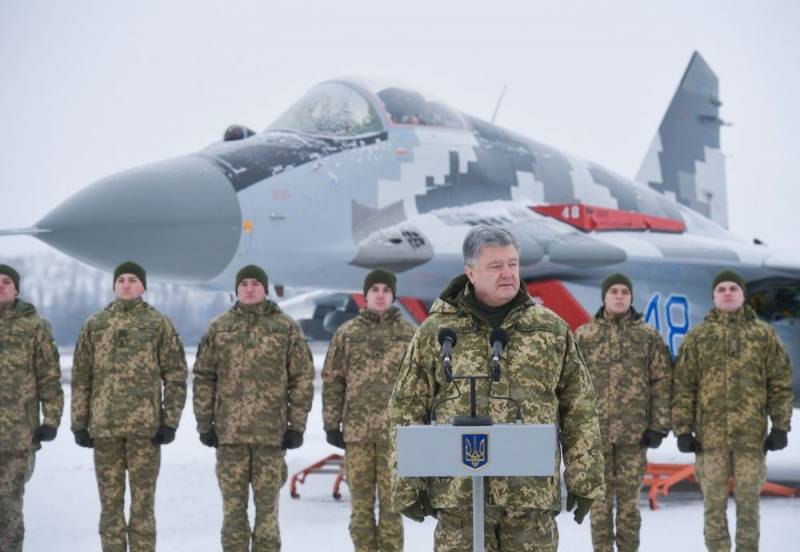 This is a tremendous threat, to which we, together with the Allies, are seeking an appropriate political and diplomatic response.
- said the "peacekeeper" on the background of military equipment.
According to him, Russia deployed a large army along the border with Ukraine. The number of this Russian group, according to Poroshenko's calculations, is more than 80 thousand military personnel. In service there are: 1400 artillery pieces and MLRS, 900 tanks, 2300 various armored vehicles, more than 500 aircraft and 300 helicopters.
He added that in the waters of the Black, Azov, Aegean seas, more than 80 ships and 8 submarines of the Russian Navy carry out tasks. Why Poroshenko did not talk about the Russian space group, is not specified.
It should be recalled that for more than four years Poroshenko personally has said that he is waging an implacable war with the Russian "aggressor-invaders." At the same time, he is feverishly pulling Ukraine into an equally "peace-loving" military
political
NATO bloc, which, in turn, is not tired of repeating that it considers Russia as its enemy.
In addition, today in the ranks of the Armed Forces there are more than 250 thousand soldiers and officers who have a solid arsenal of equipment and ammunition. Not to mention the forces and means that the Alliance possesses, more and more actively moving east. Recently we
Reported
as Ukraine asks the US to open a military base on its territory.