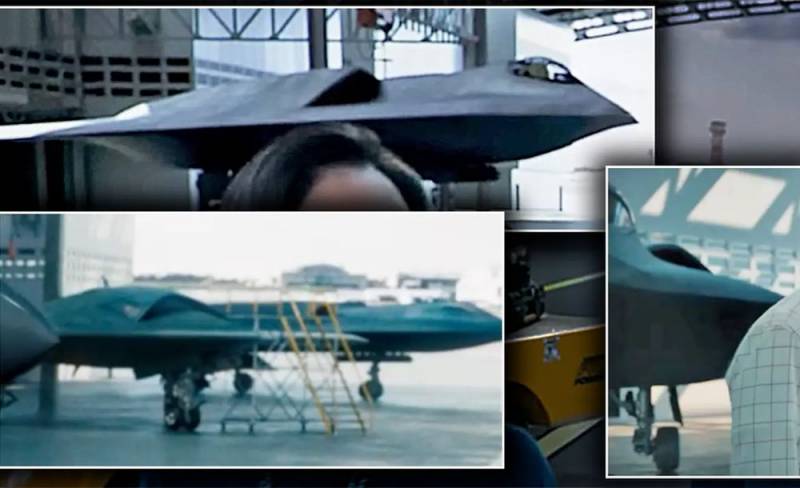 The American military-industrial company Northrop Grumman Corporation has published several videos, "illuminating" a new look at the stealth fighter of the future. In 2021, the developer is already
arranged
similar action, showing its conceptual take on a tactical jet similar to the Next Generation Air Dominance (NGAD) manned platform. This was reported on May 17 by the American edition of The Drive, giving details of what is happening.
The publication suspects that the developer continues to tease specialists, the military, competitors, aviation enthusiasts and ordinary people, submitting their variations on various aircraft design details. The first video, which is only 15 seconds long, shows three company employees talking about the possible contributions each of them could make to aviation history and to the future at Northrop Grumman.
In the video on the right, you can see the E-2D Advanced Hawkeye airborne early warning aircraft currently used by the Navy, which will continue to fly as a "digital quarterback" well into the 2040s. Behind the E-2D we see the nose of what looks like an EA-18G Growler. Shown on the left is a conventional crewed tactical jet concept similar to NGAD. Unlike the 2021 Northrop ad, which showed the nose of the same concept in more detail, the new ad provides a better view of the airframe as a whole.
- says the publication.
It is noted that the shown prototype of the aircraft, of course, meets the requirements of NGAD. It should have a fairly long range, a serious payload and low visibility without a vertical tail. You can also see the discreet air intakes mounted on top. The design also features a very long chine line around the airframe, as well as a B-2 nose "beak" and a single-flyer cockpit.
Two other videos from the same series give us a partial frontal view that has a strong B-21 Raider vibe and an even wider view of the design in question from a distance.
- specified in the material.
The publication emphasized that how exactly the concept shown in the videos corresponds to what Northrop Grumman came up with regarding the design of the NGAD manned platform is unknown. But it is obvious that the end result will be different from the concept. It is also possible that the concept shown in the videos is partly based on elements of the real-life NGAD demonstrator that has been flying with the US Air Force for several years now.
However, we still do not know who built this experimental demonstrator aircraft. It may belong to Boeing or Lockheed Martin. And the fact that the demonstrator belonged to any of these companies does not mean that the version currently in competition will be the same.
- summed up the media.