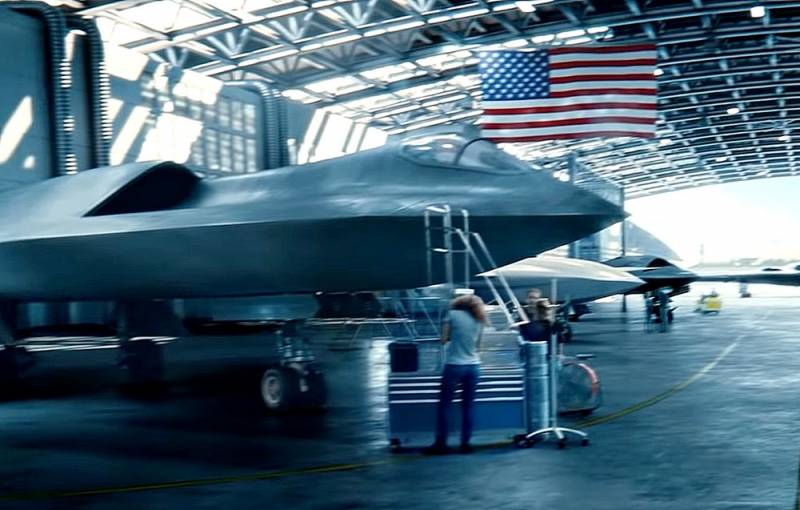 The American corporation Northrop Grumman is a great PR professional and knows how to tease others. No one can blame her for this, since she has enormous experience and capabilities (intellectual property and
technology
), and more than once achieved success thanks to its marketing moves, writes The Drive from the USA.
On November 1, the defense company unveiled its next promising, but short video, which obscured, leaving "hints and hints." The actions on the footage unfold around the elevator leading to a large hangar, which contains samples of various aircraft. The entire space inside the hangar is filled with a variety of active and promising Northrop Grumman products.
So what do we see? The hangar content is divided into future and modern times. Let's break it down from left to right.
- clarifies the publication.
The closest to the left was "lit" a conventional manned platform Next Generation Air Dominance (NGAD), which may become a long-range stealth fighter of the sixth generation. Moreover, the Air Force and the Navy have their own NGAD concepts, which will be a whole family of manned and unmanned systems. Apparently, the shown version of the stealth fighter is devoid of vertical tail and has two air intakes on the sides behind the cockpit. It looks like the Model 401 "Son of ARES" technology demonstrator.
Next, you can see a pointed white nose that looks like one of the new concepts for a loyal slave drone. One of them is derived from the said Model 401, and the other is based directly on it.
Third from left is a flying wing-shaped unmanned combat aircraft, very similar to the X-47B technology demonstrator, which the Navy "painfully bypassed" by choosing a tanker drone.
MQ-25 Stingray from Boeing.
On the opposite side of the hangar from the elevator is the B-2 Spirit bomber, which demonstrates the transition between tomorrow and today. In the background, a promising B-21 Raider bomber or an RQ-180 drone (difficult to determine due to the distance) takes off - they have a similar shape.
The far right is the Boeing EA-18G Growler electronic warfare aircraft, but the Grumman's electronic warfare capabilities are provided by Northrop Grumman. Next in line is the E-2D Hawkeye early warning aircraft. Closest to the right is the MQ-4C Triton, a derivative of the Q-4 Global Hawk for maritime surveillance.
That's all! Northrop Grumman has fun showing off some of their future work as well as what they are currently releasing.
- summed up the media.