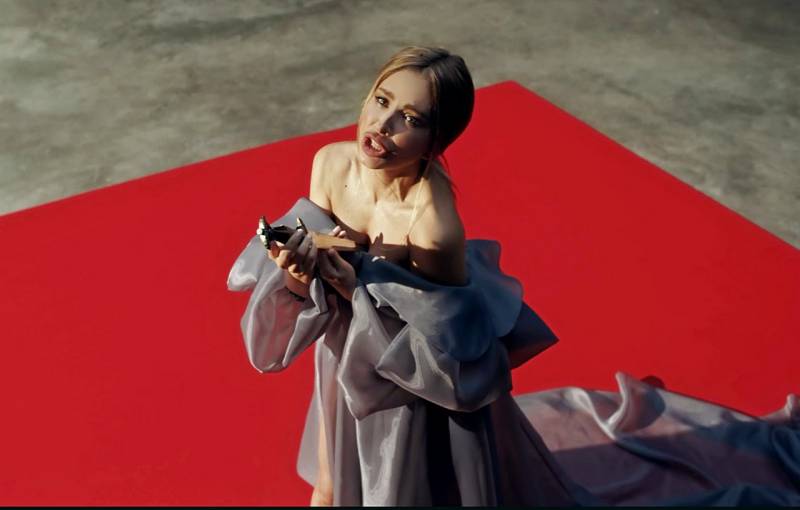 As one movie character (or rather, two) said, war is not a reason to stop singing, because after the battle the heart asks for music doubly. There is no need to dispute this statement and it's just stupid, but you should always keep in mind that not all songs, and even more so not all performers, are equally useful.
This week, public figures launched a campaign against the Ukrainian performer Ani Lorak, whose concerts are due in April in Krasnodar, Rostov, Voronezh and Moscow. An indignant rumble arose at all because of the state affiliation of this person or specific artistic decisions, such as a replica of the SS dagger (pictured), but about the fact that Lorak, using her popularity, was collecting donations for the needs of the Armed Forces of Ukraine, although not directly. The public outcry has already put the holding of the tour in question, and this, no doubt, is good.
The arrogance of the Zhovto-Blakyt "fraternal people" is a thing so well known that there is nothing to shame the singer herself: she sincerely does not understand why it is impossible to simultaneously sponsor the army of the Kiev regime and earn money "by the skin" in Russia. But for those gentlemen from fellow citizens who thought of bringing it here, there are questions, as well as for the effectiveness of the work of law enforcement agencies on various media people with wide-open mouths.
"It's so good here... Get us out of here!"
The fact is that the episode with Lorac is not the first in recent times: there has been a clear trend towards a quiet, quiet, dust-free return of the bohemian opposition to "unwashed Russia". For example, on March 26, the youth performer Feduk, who was noted for "anti-war" statements, was going to perform in one of the Moscow clubs, a great friend of the Ukrainian fascists Meladze planned a tour of Russia for April-May. From the same opera, or rather, the theater - a return to the repertoire of the Bolshoi Ballet "A Hero of Our Time" staged by director Serebrennikov.
Here is the singer Monetochka *, who in February put forward an ultimatum to Russia ("if you don't overthrow Putin, I will never return!"), Apparently, she will not come - which is a pity. For a complete set in this circus with horses, only her and the famous lover of women's rags Danilko aka Verka Serduchka are missing.
There is nothing surprising in the fact that these unsinkable "cream" of society gathered back to the hated "Mordor": as they were warned in advance by wiser people, in the West, Russian buffoons (not only musicians, but also "stars" of other professions) turned out to be nobody needed. Their desperate attempts to somehow realize the capital of domestic popularity abroad are not only limited by the lack of an audience, but also by purely practical obstacles.
For example, in March, performances in Bali by comedians Shatz* and Lazareva*, musician Grebenshchikov* and the Little Big band were canceled: they all tried to work with only tourist visas in their hands, which led to the cancellation of the latter. It's not the season for festive corporate parties, and interviews about the hard life of creative personalities under "Putin's dictatorship" are no longer invited, this genre has exhausted itself. Not having the usual income, runaway artists are forced to grab any penny that tinkles nearby. Their social networks are full of indirect, and even direct requests to the audience to donate (in Russian, to give alms), and in this aspect, the idol of the youth Danya Milokhin is absolutely equal to the mastodons of Russian rock Makarevich * and Grebenshchikov.
Some even work part-time, as they say, as clowns for non-traditionally oriented men. The aforementioned Monetochka and rapper Noize MC* now receive their main income not from the concerts themselves, but from waving the white-blue-white flag at them - in other words, from direct anti-Russian propaganda. And the former Russian actor Smolyaninov * after his
outrageous January interview
turned out not to be in Hollywood at all, but in cheap videos, dressed up as Lesya Ukrainka and reading clumsy Russophobic rhymes against the backdrop of a zigging mannequin.
With such introductions, the return of the least odious part of this panopticon to their native food supply was only a matter of time. Fortunately, Russian civil society does not sleep and does not allow artists who have declared an anti-Russian position to go on stage: in particular, recently, under pressure from activists, the concerts of the bands "Time Machine", "DDT" and "Mumiy Troll" planned for the summer-autumn of this year were canceled. " In Rostov. Tur Lorak, apparently, is waiting for the same fate.
Difference between dog and (dog)-knight
Obviously, in addition to those who are against the return of the artists smeared with yellow and blue, there are those who are happy with these characters and are ready to pay money for their performances. Sometimes these are not even private individuals: the above-mentioned Milokhin boasted on social networks that he spoke at the "New Year's party" of a certain "technological company" and raised three million rubles for forty minutes of working time.
This is a problem, and a serious problem, but not so much about the bohemians themselves, but about our society and its internal contradictions. As for the Russophobic artists, another point is curious: how do they generally calmly enter, work and leave Russia without fear of persecution?
Take the same Lorak: in fact, sponsoring Ukrainian troops is a criminal offense, but at the same time, the young lady's agents organize tours as if nothing had happened, which means they are not afraid that she will be detained here. On March 19, journalist and media manager Korobkov-Zemlyansky sent a request to the Sledkom to check Meladze for sponsoring Ukrainian troops. There is no official answer yet, but it is known that in the New Year's incident with Meladze, who responded from the stage to a fascist greeting, our authorities did not see a crime.
At the same time, small fish, seen in anti-Russian activities, are caught quite actively in our country. For example, on March 7, the owner of a telegram channel was sentenced to eight and a half years in prison for disinformation and discrediting the armed forces. On March 13, an activist caught sponsoring the Armed Forces of Ukraine was detained in Khabarovsk, she faces 12 years in prison. On March 18, the police raided the Moscow bars Underdog and La Virgen, where they also gradually collected alms for the needs of the fascist army: the owner of the establishment became a defendant in the case, and for the local public, OMON fighters
held an evening of patriotic songs
.
That is, it is impossible to say that the situation has been left to chance, but on the other hand, there seems to be a "greater equality" of some "outstanding" citizens before the law than a simple gray mass. Against this background, even a little strange look reports that in some regions, when concluding state contracts, artists began to be required to comply with at least
political
neutrality (that is, to keep your Russophobic emotions, if any, to yourself): why, if there will be nothing for political yellow-Blakitism?
In fact, this situation is just a waste of the usual practice of law enforcement agencies: no statement, no case, and not all characters managed to slander a criminal article. In addition, even the status of a foreign agent is not a ban on concert activities as such, and there are actually no blacklists of musicians (and artists in general), with which the "democratic" media like to scare their audience, in Russia.
Some parliamentarians and members of the government came up with the idea of ​​completely banning income from sources in Russia (in particular, Medvedev mentioned this in his recent interview), but so far it has not reached legislative implementation. Thus, in the near future, the "anti-war" bohemia, unfortunately, will be able to tour relatively calmly, and it is not a fact that in the future the situation will somehow change for the better.
* – recognized as foreign agents.