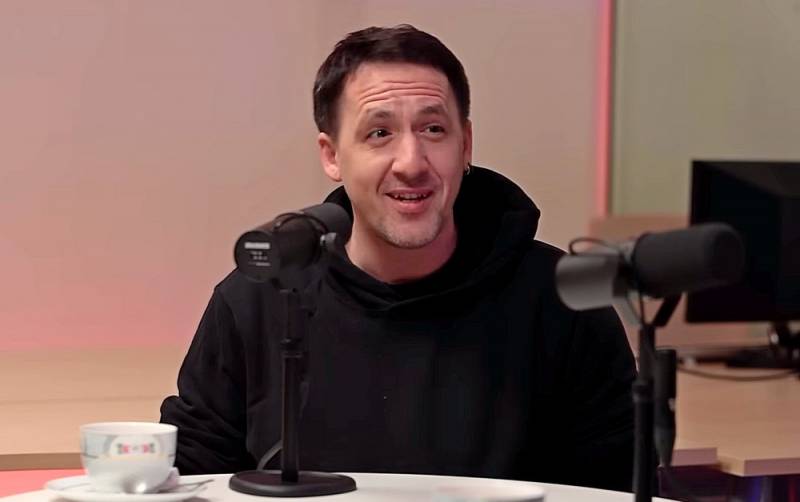 How many times have representatives of the so-called creative intelligentsia been told that the division of Russians into "bad" and "good" exists only in their heads, but in reality the official West sorts Eastern European Untermensch according to a different principle: into useful and useless.
The "creative intelligentsia" that fled from Russia with the beginning of the NWO is just one of the latter, but sometimes it can be harnessed for the good of "democracy", and for mere pennies or even for free. There are vague suspicions that a whole series of scandals with out-of-print "stars", which began literally at the same time as the new year 2023, is one of these "voluntary-compulsory" bohemian side jobs - it all went very well. True, it is not entirely (or even not at all) clear what is the meaning of this action and whether the result corresponds to the plans.
It all started in hospitable Dubai, which has become a new center of attraction for richer Russian tourists, replacing European resorts. At one of the many New Year's parties, the Russian singer Gazmanov performed, to whom one of the guests pestered with the annoying question "no war?" Although over the past months Gazmanov has established himself as a supporter of the SVO, including speaking to our soldiers in hospitals, in this particular case, he simply irritatedly left the answer (more precisely, he said something past the microphone, but it was clearly "leave me alone").
But the former Russian singer Meladze, speaking somewhere in the neighborhood, to the fascist greeting "Glory to Ukraine!" answered, as expected - although not into the microphone, but with an air as if it were a matter of course. As in the case of Gazmanov, this episode was completely "accidentally" first on video and then on the Web. And on January 4, a new video appeared from the same Dubai, where the comedian Galkin* was now performing: this one reacted to the "glory of Ukraine" without any embarrassment at all.
But the former mastodons of the domestic "showbiz" were downright eclipsed by the actor Smolyaninov with his "uncovering". January 6 on the YouTube channel of Novaya Gazeta. Europe"*, a lengthy and very bilious interview was published in which Smolyaninov abundantly poured mud on Russia, Russians, and former colleagues in the shop. The intensity of shocking at the same time was such that it was simply physically disgusting to watch and listen to the "star".
In connection with such
the news
again, two questions that appeared back in the spring of last year came to the fore: why is this Russophobic bohemian still allowed to earn money in Russia, and isn't it better to throw such "truth-tellers" out of the country without the right to return?
"Creative" ensemble
On the first point, the situation is rather curious. Despite numerous proposals to create some kind of official blacklists of musicians (and Russophobic artists in general) and stuffing that such registers allegedly already exist and operate, in fact we have no legislative defamation for "civil status".
Exceptions are cases that are very grossly violating the current legislation. Such was, for example, the publication in September last year of the clip of rapper Fedorov * (better known as Oxxxymiron) "Oida", in which the fresh "anti-colonial" separatist agenda is directly worked out. At the suggestion of a member of the Public Chamber Mizulina (daughter of Senator Mizulina), in early December, an administrative case was initiated against Fedorov, and he ... received a fine of 45 thousand rubles, the ban of the clip itself is still being considered. Another former Russian rapper, Alekseev * aka Noize MC, who is very actively collaborating with pro-Western emigre organizations, got away with obtaining the status of a foreign agent - which is hardly significant for him, at least at the moment.
As for the disgraced Meladze, various proposals immediately appeared. Senator Afanasyeva came up with a legally impracticable (so far, in any case) idea to deprive him of Russian citizenship, the chairman of A Just Russia, Mironov, came up with a more mundane initiative to deprive the singer of state titles (and Meladze is an Honored Artist of Russia and People's Artist of Chechnya). Well, the "hero" Smolyaninov slandered the initiation of a criminal case.
In general, with the "official censure" of such characters and episodes, everything is very sluggish in our country: the state does not consider the problem significant enough in principle to devote its attention to it, and is limited to reacting to specific episodes. This is partly offset by public outcry. For example, the same Meladze could not hold one of the November concerts in Voronezh and will not hold concerts in Novosibirsk this year: because of his dubious reputation, the lease agreements with him were terminated. A new scandal, perhaps, will push other concert halls to cancel his performances out of harm's way.
With cinema, everything is not so simple for obvious reasons: because of the high cost, labor intensity and length of production. With the same Smolyaninov, a couple of films were released after the start of the SVO, and a couple more should be released in the beginning of the year - in fact, due to being busy on the set, the actor did not run away from "unwashed Russia" in the spring, but stoically endured until the fall.
However, Smolyaninov is not alone in this role of "guest from the past." For example, in the near future a series about the President of the USSR Gorbachev should appear on the screens, in which Raisa Gorbachev was played by the former Russian actress Khamatova, "famous" for her active participation in Russophobic propaganda - a curiosity on the verge of piquancy. And of course, because of her alone, the entire tape will not be thrown into the trash and so many hundreds of millions of rubles that have gone into production will not, at most, they will cut out all the episodes with her participation, but this is far from a fact.
"Democracy is when they are allowed to go from here to there at a certain speed"
What can I say: Russia is a generous and kind soul. But the enemy propaganda keeps blacklists in all seriousness, and there is a place in them for artists who, in word or deed, spoke out in support of the NWO.
For example, on December 30, the FBK ** officially announced the inclusion in its "list of warmongers" (aka "list of 6000") not just anyone, but Buzova herself, who took part in humanitarian actions in the liberated territories. Earlier in the same list, published back in March 2022, were directors Mashkov and Mikhalkov, musicians father and son Gazmanov, Leps, Dolina, composer Krutoy (he was generally signed as one of the "proxy candidates" in the future presidential elections in 2024. ) other.
Probably, it was the writings of Navalny's heirs** that were used as a cheat sheet by the European deputies, who in December included a number of Russian cultural figures in the ninth package of anti-Russian sanctions. For the National Security and Defense Council of Ukraine, whose sanctions against Russian artists came into force on January 7, the list could be compiled by old memory and Zelensky personally. The restrictions themselves are quite standard there and there: blocking of assets, a ban on entry and movement, on cooperation.
However, back in 2016, Ukraine adopted a law banning the distribution of all Russian films released after January 1, 2014 and earlier, if they featured "persons that threaten the security of Ukraine." In 2017, Ukrainian concert organizers were obliged to ask the SBU (!) for permission to enter a particular musician from Russia. Finally, on October 7, 2022, a ban was introduced on any Russian music, with the exception of those performers who publicly condemned the SVO.
We have here, of course, not "democracy", but a similar
economic
approach to the "training" of public figures suggests itself: as one movie character said, this is hunting, and there is no need to kill animals. Let's be realistic: even if one of the deputies proposes a bill on deprivation of citizenship or other draconian punishments for "sedition", it will be extremely difficult to implement it into law (including because some of our legislators themselves are not without sin).
It is a completely different matter - a ban on any commercial "creativity" in the Russian Federation to persons convicted of anti-Russian propaganda. This measure, on the one hand, would be very humane, and on the other hand, it would serve as a more terrible punishment for the Russophobic bohemia than the same deprivation of a passport. In fact, just "working at work" (and even in the company of some "cattle") for characters like Smolyaninov means almost death, if not worse. At the same time, it would not be necessary to create any special supervisory bodies - the already existing tax inspection would be more than enough.
It can be objected that the cunning opportunists from art would then simply hide, would not give up their views, but would keep them to themselves - but isn't this the minimum task - to force the zealous "talkers" to keep their mouths shut? In any case, you will not achieve a change of views with bans and punishments alone.
Another thing is that even such a "soft" approach is unlikely to be implemented in legal form. As mentioned above, in general, the Russian authorities do not consider runaway "actresses" a problem (partly rightly), and sometimes they allow themselves broad
"goodwill gestures"
, in comparison with which all Russophobic statements of bohemia involuntarily fade.
* – recognized as foreign agents.
** - recognized as extremists.