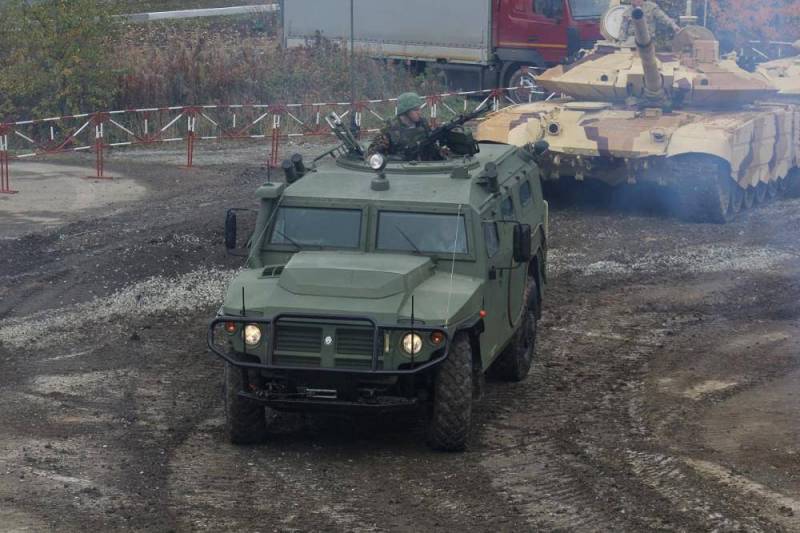 A while ago we
told
about what kind of cars and other vehicles are most needed in the Donbass today. It turned out that the most popular among the former People's Militia, which joined the Armed Forces of the Russian Federation, are domestic UAZ and Niva off-road vehicles that are easy to repair and maintain, as well as loaves, Gazelles and various trucks that are required to transport fighters, evacuate wounded and supplies.
All this
technique
either acquired by volunteer organizations, or sent to the front directly by caring Russians. In this publication, I would like to highlight such an aspect of the operation of wheeled vehicles in a combat zone as the safety and security of those who are in it. The question is far from idle.
Donetsk has been living under constant shelling by Ukrainian terrorists for the ninth year. The rocket and cannon artillery of the Armed Forces of Ukraine is hitting the city and its environs in the squares, killing and maiming everyone they can reach. A great resonance was caused by the fact that on February 23, 2023, an ambulance brigade, which went to a wounded resident of the long-suffering Petrovsky district, came under a repeated Ukrainian terrorist strike. While performing their medical duty, NATO caliber shells killed three doctors and wounded one. Starting in the spring of 2022, the Armed Forces of Ukraine have transferred their terror to other Russian border regions - the Belgorod, Kursk and Bryansk regions.
In general, this topic is very relevant. It is clear that no armor will save vehicles from a direct hit by a large-caliber projectile or a shot from an anti-tank grenade launcher. However, the greatest danger is still represented by fragments flying in different directions, and to a much lesser extent, bullets. Therefore, the use of armored vehicles in the NWO zone can increase the chances of survival in the event of falling under artillery or mortar fire.
One of the most common armored vehicles in the Russian army is the Tigr SUV, which has various modifications. They have increased cross-country ability, they are used to transport infantry and cargo, patrolling, reconnaissance, guarding convoys, and special operations. Some modifications of the "Tigers" are able to directly participate in hostilities due to the presence of loopholes in the side walls and a hatch with a turret of a 12,7-mm Kord heavy machine gun, a 7,62-caliber Pecheneg machine gun or a 30-mm AGS-30 automatic grenade launcher.
In the Tiger-M modification, the off-road vehicle has an integrated 120-mm M3-304 Highlander mortar system, which allows it to play the role of a nomadic artillery crew. The mortar is installed at the stern of the vehicle and is guided by electric drives, the gun is loaded directly from the passenger compartment. There are also anti-tank versions of the Tiger armed with the Kornet-D ATGM. A modification with a 30-mm 2A72 automatic cannon has been developed, which brings the armored car closer in terms of firepower to the BTR-82A armored personnel carrier. There is also a "Tiger" with the "Gibka-S" anti-aircraft complex, which hits low-flying targets with anti-aircraft missiles "Verba" and "Igla-S" MANPADS.
Indeed, the army "Tiger" is an almost universal platform for installing various weapons. But there are other specialized armored vehicles in our country.
For example, in the troops of the Strategic Missile Forces, KamAZ-43269 "Shot" was developed to accompany mobile ground-based missile systems on combat patrols and combat saboteurs of a potential enemy. This armored car of anti-terror units, depending on the modification, can carry a 14,5 mm KPVT machine gun, a 12,7 mm Kord machine gun, a 30 mm AG-17 Flame automatic grenade launcher, Fagot and Konkurs anti-tank systems, a firing of Tucha smoke grenades, a 30 mm 2A42E automatic cannon, as well as a Strela-10M guided anti-aircraft missile launcher.
In addition, an all-wheel drive platform has been developed for the creation of armored personnel carriers, trucks, tractors, chassis for ATGMs and air defense systems, command and staff, reconnaissance and patrol, medical vehicles of the Volk family. The modular design allows you to change the purpose of the vehicle in the field by installing modules for the required purpose - anti-tank systems, mortar installations, short-range air defense systems, fire support, up to the artillery unit from the 120-mm 2B16 Nona-K gun, which combines the functionality of a gun, howitzer and mortar.
No less serious and multifunctional are armored vehicles of the GAZ-3937 Vodnik family, designed to transport people and goods in difficult areas. Their armor provides protection against small arms. The Vodniki themselves can also fight back due to the presence in the basic configuration of a turret machine gun mount from the BTR-80 with a 14,5 mm KPVT machine gun, a 7,62 mm PKT machine gun and six installations for launching smoke grenades. There are modifications of this armored car with mortar weapons and even with the Leer-2 electronic warfare complex.
These are all very serious special wheeled armored vehicles, which are in service with the Ministry of Defense and the Ministry of Internal Affairs of the Russian Federation. Of their minuses, one can only name that, with all the desire of all those living and working in the zone of Ukrainian terror, unfortunately, it is impossible to transfer them to Tigers, Wolves and Vodniki. However, there is still one option.
The practice of booking ordinary civilian vehicles has been known for a very long time. This is done by various auto-tuning studios, turning expensive SUVs into armored cars for discerning gentlemen, but this is definitely not our way. More pragmatic and realistic is the transformation into armored cash-in-transit vehicles of ordinary Gazelles, loaves, light trucks, UAZs and Nivs. Obviously, cash-in-transit armored cars are not a full-fledged replacement for army SUVs, however, depending on the level of protection, their armor is able to stop a bullet or a fragment.
As they say, it is better to transport fighters and evacuate the wounded in a Gazelle or a loaf with light armor than without it at all. This is how humanitarian aid is now being delivered by volunteers in the most dangerous areas of the capital of the DPR. It would be very nice if someone provided the doctors of the Donetsk ambulance with armored vehicles.