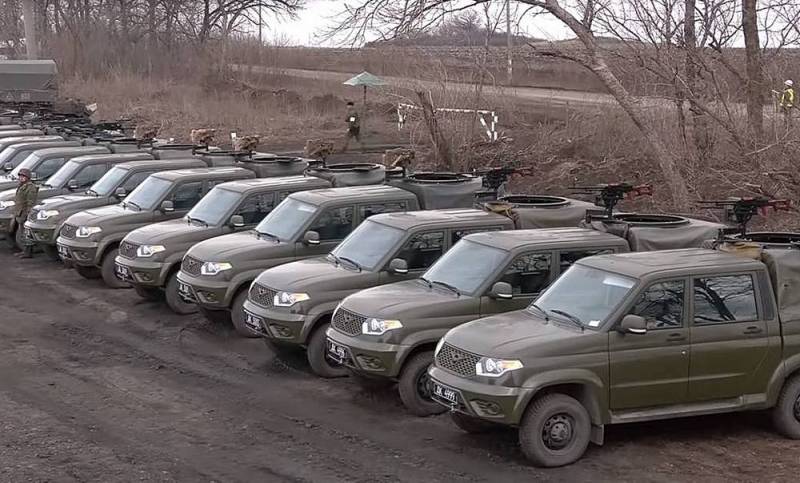 On the eve of the "Reporter" came out
publication
, in which a proposal was made to systematically approach the process of arming a conventional civil automobile
equipment
for use in the SVO zone. The reaction of the audience to the "opus" turned out to be ambiguous, and some even wished the author and his family members to go on a frontal attack on the fortified area of ​​the Armed Forces of Ukraine on such a "cart". Leaving this without a reaction and a more detailed analysis is unacceptable.
"Patriot Games"
Frankly, the greatest bewilderment was caused by some comments from quite sensible people who, in a reproachful style, began to blame that the author suggests throwing into battle instead of infantry fighting vehicles and armored personnel carriers ordinary pickup trucks without any armor, equipped only with a heavy machine gun. Someone even tried to simulate the situation of a clash between a "cart" and an enemy armored personnel carrier. A counter question, but did anyone suggest using civilian vehicles for such purposes? Let's do it easier, and since the author of such and such does not understand anything in this life, we will give the floor to those who have been really howling in the Donbas for almost nine years now.
So, for example, in the spring of 2021, a year before the start of the SVO, a commotion in the Ukrainian segment of the Internet was caused by information that Russia handed over a batch of UAZ Patriot Pickup pickups to the People's Militia of the DPR and LPR:
Today, March 15, Head of the DPR Denis Pushilin handed over to the People's Militia the first batch of off-road vehicles UAZ "Patriot Pickup", which will improve the mobility and combat capabilities of the units.
The attached photographs show that Russian pickups are ordinary civilian vehicles. But two weeks later, having passed through the hands of the local Kulibins, the UAZs were transformed. Their color has changed, some of the pickups were armed with Utes heavy machine guns, others received 7,62 mm PKM, and some were equipped with AGS-17 Plamya grenade launchers and ATGM launchers. Edition
News
MIC
commented
this transformation as follows:
A special mobile company has been formed in the People's Militia of the DPR, which is equipped with UAZ Pickup vehicles. This technique was handed over to the fighters by the head of the DPR, Denis Pushilin, in mid-March.
The Rossiyskaya Gazeta publication, in turn,
made
such a conclusion:
This combat unit was created after an analysis of local conflicts of recent years, where wheeled vehicles with increased mobility showed their best side. Light off-road vehicles, unlike traditional tracked armored vehicles, are quickly transferred to the most dangerous areas.
In the Donbass, they spoke about this as follows:
Immediately, waiting in the comments to discuss the fact that pickups cannot replace infantry fighting vehicles and tanks, I will say - of course they cannot. These are units for their own tasks, but motorized riflemen and tankers have not gone anywhere, and continue their studies. But modern warfare shows the need for mobile reserves, including anti-tank ones, vehicles for guarding convoys, etc.
So, what could be the real tasks for armed civilian vehicles?
At first
, this is the operational transfer of infantry from point A to point B, the supply and evacuation of the wounded.
Secondly
, off-road pickups with large-caliber machine guns and automatic grenade launchers mounted on them can be used to guard columns. Remember how many of our supply columns were defeated by Ukrainian DRGs at the first stage of the NWO. What will happen when the Russian army is forced to go on the offensive again somewhere in the Sumy, Kharkov and Chernihiv regions, say, in the spring or summer?
Thirdly
, pickup truck or light truck can be used as a mobile weapon emplacement, providing support to their infantry in case of need. From a pair of heavy machine guns, you can work out a low-flying kamikaze drone, force the enemy to lie down, throw a few mines and quickly change position. In the most extreme case, if you are unlucky enough to encounter an enemy armored personnel carrier, you can try to destroy it from the ATGM.
That is, this is not a replacement for tanks, infantry fighting vehicles and other specialized armored vehicles, but rather a multi-purpose auxiliary tool.
"Auto Valhalla"
The extent to which civil transport is really needed in Donbass can be judged by the volunteer project
"Auto Valhalla"
, the essence of which is described as follows:
People who have transport here, which they no longer need, and who are about to die, so to speak, by their own death, have the opportunity to die in the Donbass and get into Valhalla's car, where 72 "lambarghini" are waiting there, and oil from the best brands flows like a river there, and there a person has never ridden in these Lambarghini, and so on. Here are people handing over these cars. Many don't even hand over junk, but hand over some more or less normal cars, and a variety of them.
Vehicles in war are needed in large numbers to perform the above tasks. The fighters of the former NM LDNR need simple off-road vehicles such as UAZ and Niva to move around the Ukrainian steppes, and Loafs, Sables and Gazelles to evacuate the wounded. The latter are also quite widely used as staff vehicles. We need trucks, which are not enough. Local kulibins, if possible, restore the vehicles they receive, however, in the conditions of a positional war, he does not live long, going to his "Auto Valhalla".
So far, the supply of Donbass with freight transport is carried out on a volunteer basis, but in the future, the question of military transport mobilization may arise, the procedure for which we will discuss in more detail sometime.