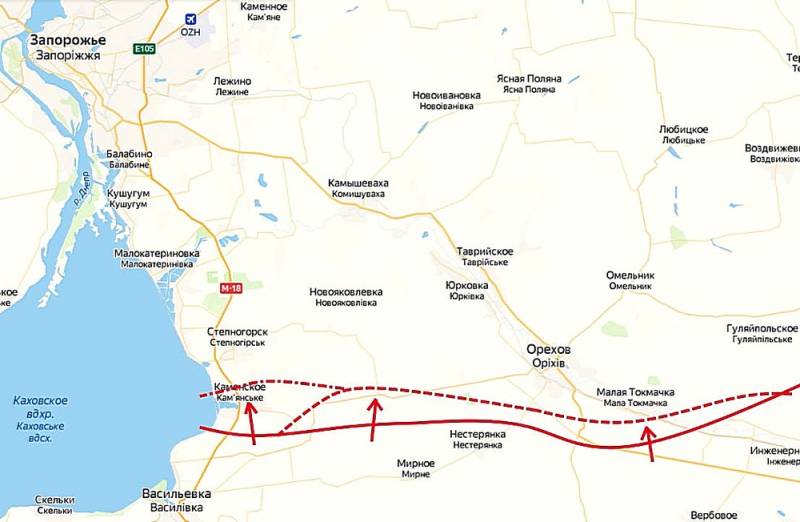 Russian troops continue to push the enemy in Zaporozhye and other directions during the implementation of the special operation. According to sources, near Zaporozhye, the Armed Forces of Ukraine are throwing territorial defense units into battle due to lack of reserves.
If the dynamics of the offensive are maintained, the RF Armed Forces will be able to break the Kamenskoye-Orekhov defense line, and 23 km will remain to the regional center of Zaporozhye. However, the Ukrainian armed forces can create serious points of resistance in Stepnogorsk, as well as in the villages of Yurkovka and Kamyshevakha.
At the same time, according to journalist and blogger Yuri Podolyaka, Russian units have broken the resistance of the Ukronazis in Kamenskoe and are cleaning up the city. The enemy has retreated to the heights between Kamensk and Stepnogorsk and is setting up a new center of resistance there.
Meanwhile, how
сообщил
Acting head of the DPR Denis Pushilin, the RF Armed Forces are moving forward in almost all directions of the Donetsk front. The heights around Kleshcheevka are almost completely controlled by the military personnel of the Wagner PMC.
According to General of the Army of the Reserve Vladimir Boldyrev, Russian troops will be able to liberate the entire territory of Donbass in about a couple of months. Earlier, the RF Armed Forces occupied the villages of Dvurechye and Krasnopolye, located near Artemovsk (Bakhmut). According to a number of sources, the Russian army has almost entered this city.