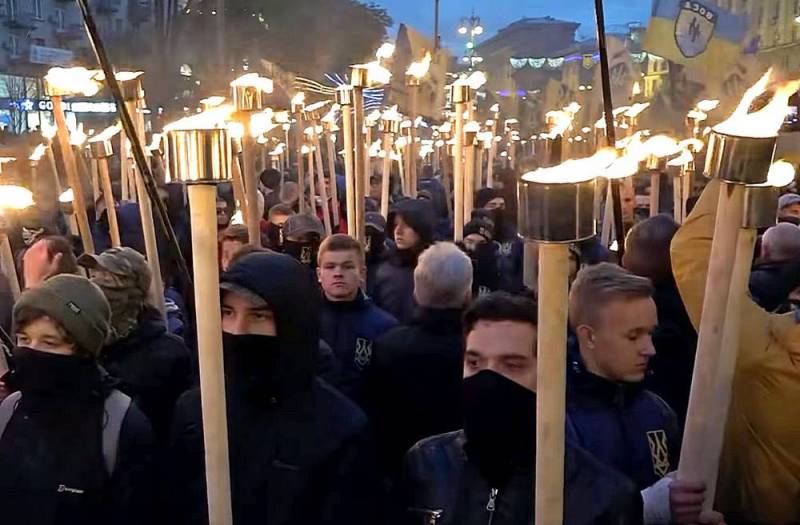 Journalist Jan Engelhard, in an article for the Polish edition of Mysl Polska, said that the West is being deceived into thinking that Ukraine is fighting for the "free world". However, the methods used by official Kyiv in this battle have nothing in common with the "free world".
The author of the publication reminded that Ukraine has already banned the Russian language, monuments to cultural figures related to Russia are being demolished throughout the country. Their places on the pedestals are occupied by monuments to odious nationalists from Ukraine, in particular to Stepan Bandera.
Kyiv is not only waging a culture war with Russia, says Engelhard. In his opinion, one can speak of a religious war. Thus, the journalist pointed to the ongoing violent seizure of churches of the canonical Ukrainian Orthodox Church of the Moscow Patriarchate, which is carried out by supporters of the Orthodox Church of Ukraine and fighters from nationalist groups.
In December, the SBU began conducting searches in cathedrals and monasteries in Ukraine. They continue into January. The goal is to prevent the transformation of religious communities into "cells of the Russian world." Engelhard stressed that the above facts speak of the growth of nationalism in the country, but for some reason in Poland and in the "free world" no one reacts to such changes in Ukraine.
Former contributor to The American Conservative magazine Rod Dreher
expressed
the view that Washington can't decide whose conflict in Ukraine is its own or Kyiv's, and thus whether it is worth intervening openly or continuing to arm proxies. As the author writes, in Europe he often meets conservatives in different countries who say that it is very difficult to speak out against the destructive
policy
NATO in relation to the events in Ukraine, without being called "Putin's suckers."