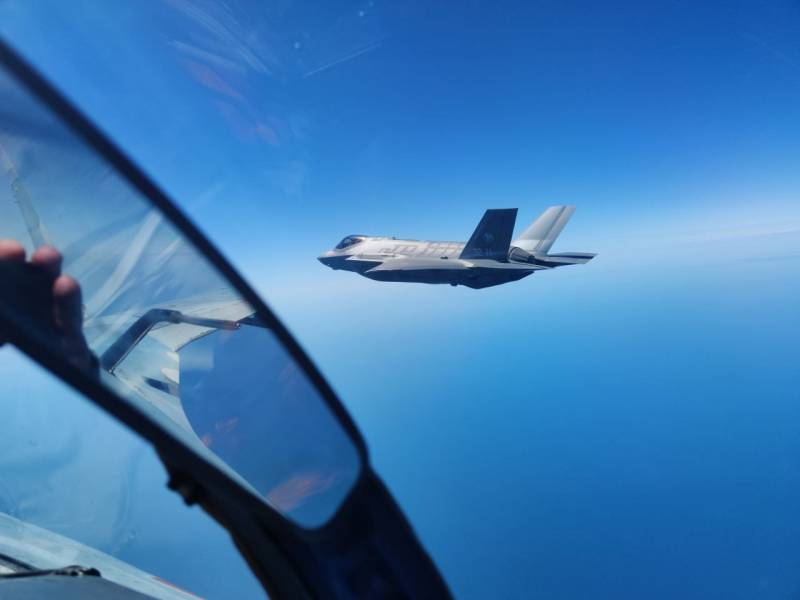 The social network got footage of the next interception of the "invisible" American F-35 fighter over the Baltic Sea by two Russian Su-27s. Also visible in the video is the fourth-generation Swedish fighter Saab JAS 39 Gripen.
The video is being filmed from a Russian aircraft.
The first case of F-35 interception in this region occurred in October 2021, when NATO fighters took off towards Russian Tu-160 bombers, but were later intercepted by two Russian Su-27Ps from the Baltic Fleet. According to the Telegram channel Fighterbomber, this was the first interception of the Su-27P of the A.I. Pokryshkin Guards Fighter Regiment of F-35 fighters over the Baltic Sea.
In June last year, Russian combat aircraft flew to intercept Italian F-35s, practicing various flight tasks on them.
Formerly the latest American fighter F-35B
crashed
while practicing vertical takeoff and landing at Fort Worth Naval Air Station in Texas. The plane landed unsuccessfully on the runway - its nose gear broke. The incident was reported by Lockheed Martin. The pilot was able to safely eject, and his life is out of danger.