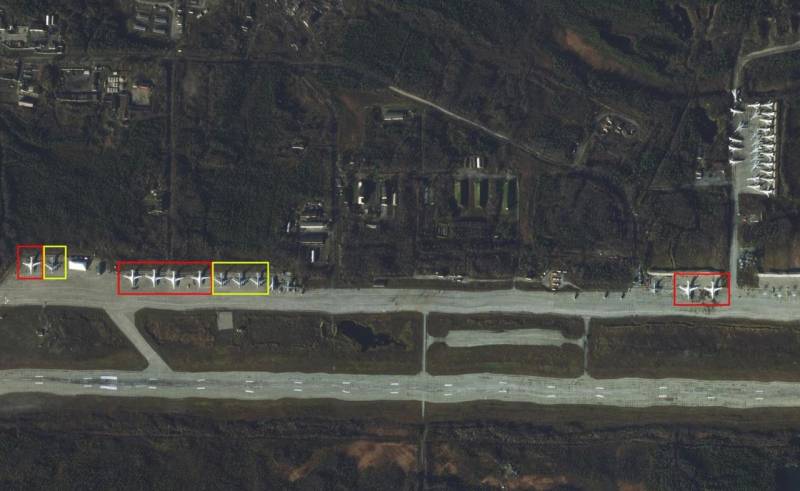 Russia has already deployed 11 strategic missile-carrying bombers capable of carrying nuclear weapons in the Murmansk region near the border with Norway. This was reported by the Norwegian edition of Faktisk, presenting as evidence a satellite image from the American company Planet Labs.
The publication clarified that the photo was taken on the morning of October 7 and its contents are beyond doubt. The picture shows 7 Tu-160s and 4 Tu-95s at the Olenya air base on the Kola Peninsula.
Experts suggest that the presence of long-range aircraft of the Russian Aerospace Forces in this area is of a long-term nature. Allegedly, Moscow thus sends a signal to the West. Usually these aircraft are located at the Engels air base in the Saratov region, but now they have been transferred to the north.
For almost 2 months, the site of the Olenya airfield was empty, but on August 21, 4 Tu-160 units arrived there. September 25 there
flew over
3 more units of Tu-95.
The interviewed experts admit that the deployment of the air group on the borders with Norway may be connected with the exercises of the Russian strategic nuclear forces "Grom", which are usually held in October. However, the last time the timing of the exercises was postponed from October 2021 to February 2022, which almost coincided with the start of Russia's special operation in Ukraine.
The deployment and exercise of strategic bombers is in itself a form of nuclear deterrence, so it can generally be seen as part of Putin's threats to use nuclear weapons.
says Norwegian military analyst Lars Peder Haga.
Professor of the Norwegian Institute for Defense Studies Katarzyna Zisk agrees with this point of view. According to her, the deployment of the Tu-160 and Tu-95 is part of the containment system being built by Russian President Vladimir Putin, with the help of which he wants to give credibility to his threats.