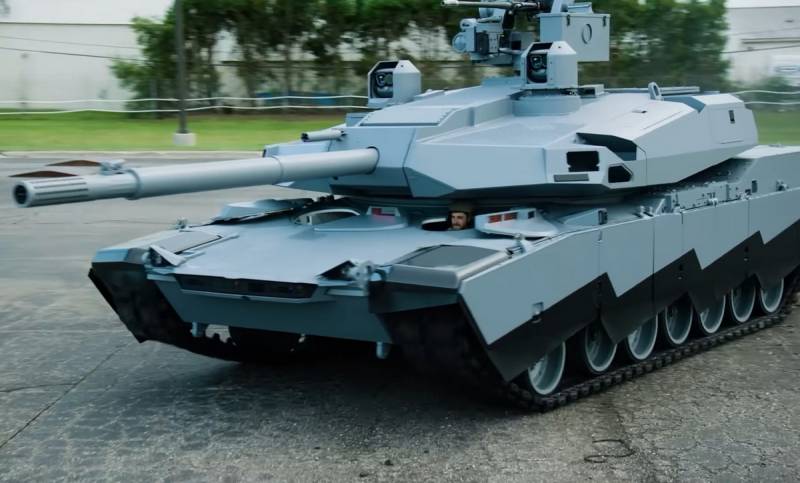 Recently, the American company General Dynamics Land Systems
released
press release regarding the AbramsX tank prototype. Now the developer has shown the first prototype "in hardware", officially presenting the concept of his future MBT, writes The Drive from the USA.
Thus, it became possible to see the actual appearance of the tank in the run-up to the exhibition of the US Army Association (AUSA) in Washington.
Suffice it to say that the AbramsX is very similar to the tank of the future, with its heavily redesigned turret equipped with multiple electro-optical sights and a remote weapon station with a 30mm secondary cannon. The sniper gray urban camouflage with shading along the notched skirt also gives it a very futuristic look, as does its 120mm main gun (an XM360 derivative) with a perforated muzzle brake
- says the publication.
The publication noted that the hybrid power plant of a well-protected tank, hidden in the depths, is probably its most interesting feature. The developer claims that it will provide tremendous fuel savings - up to 50%, compared with gas turbine engines installed on previous modifications of the tank. In addition, the tank will become less noisy, which can provide a huge tactical advantage.
An unmanned turret with an automatic ammunition loading system reduces the crew size from four to three. This is also an important advantage, increasing survivability and freeing up space in the tower for additional capabilities. Downsizing is also high on the list of needs for armies around the world. The AbramsX is lighter than its predecessors, breaking the trend of making ever heavier tanks.
The digital basis of the tank will be the next generation KATALYST electronic architecture (NGEA), which will ensure the simplicity of future equipment improvements, as well as accelerate adaptation to changing tactical realities and
technology
. The tank is equipped with numerous sensors and video cameras, as well as an active protection system.
These are just some of the main features that are part of the AbramsX initiative, which also includes the ability to combine with unmanned ground vehicles.
- summed up the media.