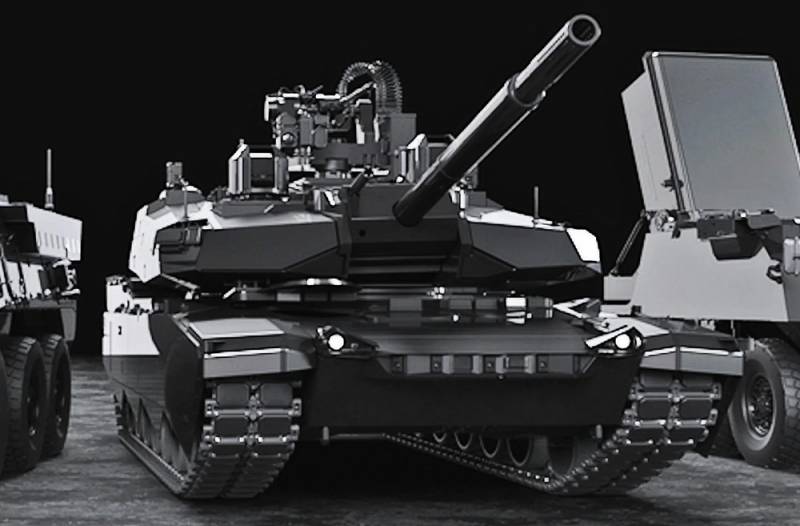 The next generation Abrams tank is being designed to be, among other features, more economical, quieter, lighter and with fewer crews than previous models. This was reported on October 5 by the American edition of The Drive, describing
news
for the OBT update.
On the eve of General Dynamics Land Systems presented more details about its new concept tank M1 Abrams, for the first time
shown
in June, with a clearer rendering of the heavy tracked vehicle. The company called its prototype AbramsX, emphasizing that it is still a demonstrator of advanced
of technologies
. The improved version will get a hybrid diesel-electric power plant (traditional engine and electric motor), the crew will be reduced to three people, the weight will also become less, as it crept up to critical levels. The design will be shown next week at the US Army Association (AUSA) exhibition in Washington, DC. It will be demonstrated along with other designs StrykerX (an armored personnel carrier with an 8x8 wheel formula), Stryker Leonidas (with a powerful microwave directed energy weapon) and TRX Breacher (an engineered combat version of the TRX unmanned vehicle).

The AbramsX Technology Demonstrator features reduced weight for increased mobility and portability, delivering the same tactical range as the M1A2 Abrams while using 50% less fuel. The AbramsX hybrid power supply supports the U.S. Army's climate and electrification strategy, expands silent surveillance capabilities, and even provides some silent mobility
– stated in the press release of the developer.
The appearance of the prototype X is significantly different from the original M1. The most advanced version of the M1A2 System Enhanced Package Version 3 (SEPv3) weighs a whopping 73,6 tons, more than 10 tons heavier than the original. This weight makes it difficult to travel on roads and bridges, transport by air, rail and even sea. The military will also like the reduction in fuel consumption, since such a feature can help out with difficulties in logistics.
With AI-enabled crew reduction and lethality, survivability, mobility, manned and unmanned aircraft (MUM-T) fusion, and autonomous capabilities, AbramsX could become a key node in lethal combat networks.
- underlined in a press release.
Moreover, the company did not specify how much the weight of the tank would be reduced. At the same time, there is no doubt that with a reduction in the turret, the total weight of the tank will seriously decrease, since its mass reaches 1/3 of the tank. Moreover, it was not explained which of the usual four crew members (commander, gunner, loader, driver) would become superfluous. Probably, the loader will be replaced by an automatic loader, as has long been customary in the USSR, Russia and China.
The tank will have many sensors and video cameras, an active protection system (KAZ) and an improved 120-mm gun will appear. The X prototype should "serve as a bridge from the Abrams SEPv3 and SEPv4 to the tank of the future." At the same time, SEPv4, which is under development, is very similar in size, shape and overall design to SEPv3, summed up the media.