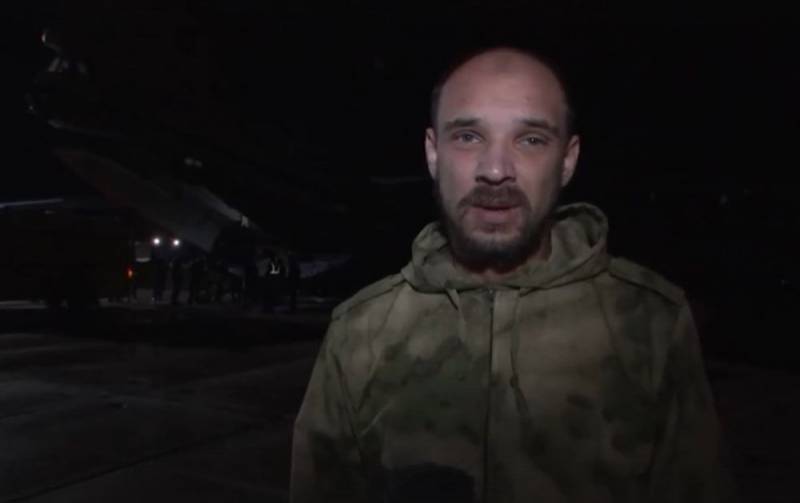 After the big
sharing
prisoners of war between Russia and Ukraine, details of the stay of Russians in Ukrainian captivity began to emerge. The servicemen of the RF Armed Forces began to talk about what they had experienced.
In the first video, a military man who returned to Russian soil said that he and other prisoners of war slept on pallets in the basement. The content was disgusting, the food was bad, twice a day, and the feeling of hunger was constant.
Fascism is present in Ukraine. They are bullied. They bully hard. Forcibly. At first they beat
– said the released.
According to him, he lost 10 kg during this time. But he is very glad that he returned home, and is grateful to everyone who had a hand in this.
God grant strength, health, return, give them ... fight to the very end. To stop this mess that's going on there
He summed up.
The military man explained in the second video that he had been in captivity for 1,5 months. He clarified that he and other prisoners of war were settled in a basement in some military unit and the conditions were not good. It was very damp, we slept on pallets.
Fed 2 times a day. They gave 2-3 tablespoons of porridge. Calls constantly. Insults. Bathed (washed) once a month (there were no conditions). It was very difficult. They didn't let me call home. As for the exchanges, they said: "Russia is to blame for everything. Russia does not give. We were forced to say a lot of things on camera under machine guns
- added the second soldier.
After viewing these footage, many questions should disappear about the expediency of exchanging Russians for "Azov" (a terrorist organization banned in the Russian Federation).