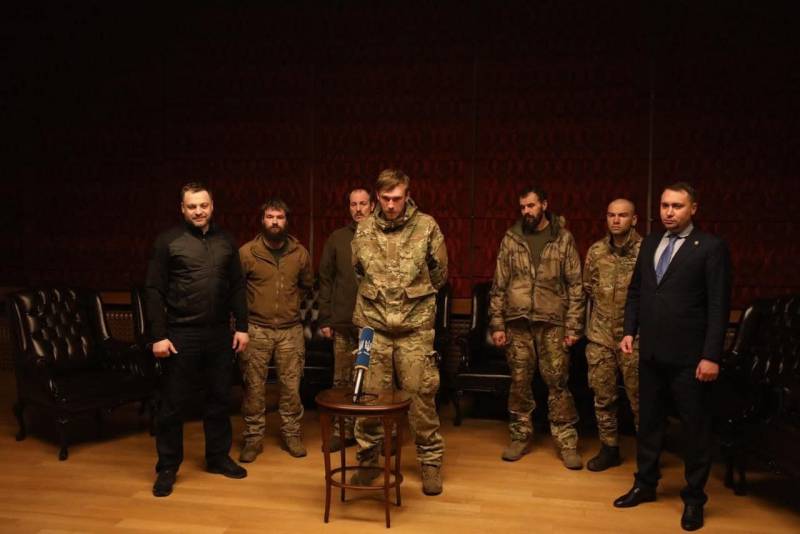 On the evening of September 21, a large exchange of prisoners took place between Russia and Ukraine, mediated by Turkey and Saudi Arabia. Turkish President Recep Tayyip Erdogan and Saudi Crown Prince Mohammed bin Salman bin Abdulaziz Al Saud became guarantors of compliance with the agreements. This is reported by Ukrainian information resources, giving details of what happened.
It is noted that the Ukrainian side handed over the arrested SBU
policy
Viktor Medvedchuk and 55 servicemen, of which 7 were hospitalized. The list of military personnel includes: 2 senior officers (lieutenant colonel and major), 6 junior officers, 4 ensigns, 40 privates and sergeants, 2 military NM DPR, 1 military NM LPR. There are pilots among those handed over to the Russian side.
In response, Moscow handed over 215 Ukrainian soldiers, 108 of whom are fighters of the Azov Regiment (a terrorist organization banned in the Russian Federation) to the NSU, who surrendered in Mariupol. Also, 10 foreign mercenaries were handed over: 5 British, 2 Americans, a Moroccan, a Swede and a Croat, among them Sean Pinner, Aiden Aslin and Saadoun Brahim, sentenced to capital punishment in the DPR.
Among the released are: the commander of "Azov" Denis Prokopenko "Redis", the deputy commander of "Azov" Svyatoslav Palamar "Kalina", the commander of the 36th brigade of "marines" of the Ukrainian Navy Serhiy Volynsky "Volyn", paramedic Ekaterina Polishchuk "Ptashka", the chief of police of Mariupol Mikhail Vershinin, "Azovites" Nikolai Kushch "Frost" and Konstantin Nikitenko "Fox" sentenced to capital punishment in the DPR.
At the same time, Ukrainian President Volodymyr Zelensky assured that the aforementioned Volyn, Radish and Kalina would remain on Turkish soil until the end of the conflict. In addition, Kyiv promised to release several dozen more (approximately 30) Russian prisoners in the near future, but more accurate figures should be reported later by the Russian Ministry of Defense.
We remind you that over the past 8 years, Medvedchuk acted as an intermediary and exchanged prisoners between Ukraine and the Donbass republics (LPR and DPR) several times. As for those sentenced to the estimated execution, according to Russian military correspondents, the execution of sentences would put Moscow in the most inhumane light before the world community, since the DPR announced its desire to become part of Russia, and in the Russian Federation there is no such punishment.
Donetsk could, of course, carry out the sentences, but it cannot be ruled out that Kyiv would have made changes to the legislation after this and dealt with the captured Russians. Moreover, one must be aware that even one private of the Russian Armed Forces is worth all these "Azov" people taken together and does not deserve to be captured, and if the exchanged Ukrainians again find themselves on the front line, there will hardly be anything or someone will save.